"Ahhhhhh" was the collective utterance of those departing the Las Vegas heat (112 degrees when I left!?!) and, while most were ready to say goodbye to the oppressive temps, we were not leaving empty handed. The annual Society of Human Resource Management Conference is the largest gathering of HR professionals on the planet (their words, but I am guessing based on my experience they're accurate). And, true to its claim, it delivered astronomical insights to both those attending and soaking in the sessions and those of us manning the tradeshow floor…
#1: HR is Back en Vogue. Perhaps it was never out, but the economic downturn changed the organizational focus from human capital to financial capital. I am happy to say the tide has turned. Having been to the show for the better part of the last decade, this was definitely the most well attended. It's clear: organizations are looking to invest in people and are willing to make the investment in their HR teams that will be needed to raise the bar.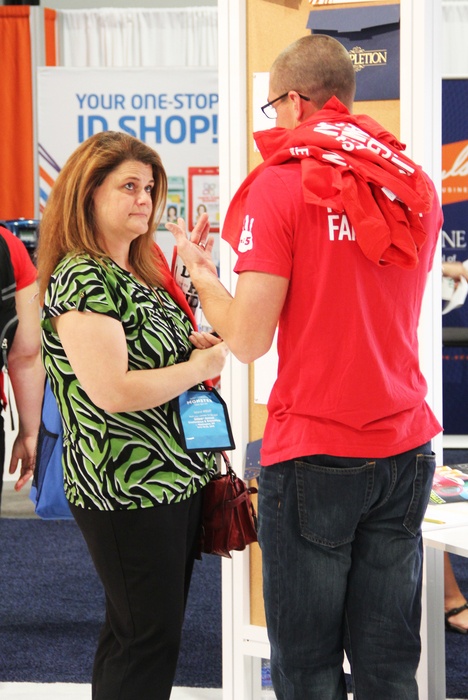 #2: Looking Beyond Anniversaries. Most of the HR Professionals I spoke with have a traditional service award program—and, while many are interested in the unique approach hi5 Recognition brings to the table, many more are asking the deeper questions. "What about peer-to-peer?", "How can you help with onboarding?", "How do I celebrate employee birthdays?", "What do you guys do for day-to-day recognition?"
Clearly, organizations are looking beyond the years of service program. Perhaps you should be, too?
#3: People Make the Difference. At Baudville, hi5 Recognition, and IDville, we spend countless hours designing booths, marketing materials, and sales strategies and making all the arrangements for what is a big show for all three businesses. Certainly, that planning makes a difference—but, I was struck walking the show floor how many booths were missing the most critical part of the plan.
Don't get me wrong: these booths looked great. Unfortunately, though, they were staffed with employees who were clearly apathetic and disengaged—watching the clock and watching potential customers wander by without so much as a word. In our industry, we hear a lot about the cost of disengaged workers. Funny how a tradeshow puts it on display for all to see. Many companies make big investments in the physical space only to watch it all wither away because of poor recruiting, training, and passion…
I am happy to report that for all the brilliant pre-show work our in-house team does, it's our in-booth team that makes our brands' SHRM experience unique. "You guys are so much fun," I heard on more than one occasion! It was a good reminder for me that in the end nothing matters more than who's on your team—and, if I could have, I would certainly have bet the house in Vegas for our team to take BEST IN SHOW!
---
Brad Darooge is President and CEO of Baudville and a positive mojo aficionado. He brings the positive mojo to work every day along with his bike. In addition to leading Baudville, Brad is also an amateur triathlete.