There is no doubt that your social media feed has been full of videos of people completing the ALS Ice Bucket Challenge. Before the social media extravaganza that brought awareness to this debilitating disease, I had only heard of Lou Gehrig's disease. I had no idea what it was or how many people were affected by it. Now that the ALS Ice Bucket Challenge has swept the nation by storm, I have done my research and know exactly what it is and you probably do, too. Or, like many of us, you have a personal connection to ALS through a friend, acquaintance, or loved one.
The Ice Bucket Challenge has not only raised money, but awareness as well. It's clear that the ALS Association needs our help to create a world without this terrible disease.
I am so lucky to work for a great company like Baudville, who was more than happy to rise to the challenge. Our executive team rallied 100+ employees to dump ice buckets on our heads and donate money to help the fight against ALS.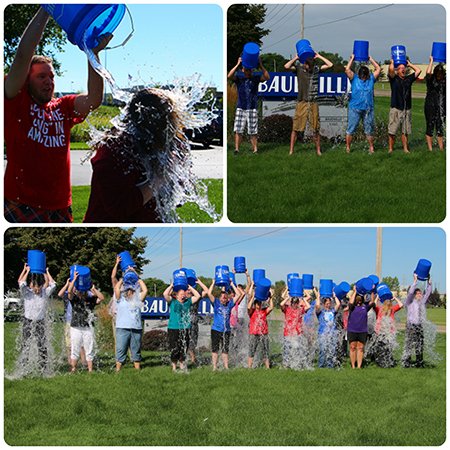 To see Baudville's Ice bucket challenge videos, check them out on YouTube—you won't be disappointed! The videos can also be found on our Facebook and Twitter pages!
Baudville employees not only dumped ice water on their heads, but also donated over $1,000 which is absolutely amazing! But, what is even more amazing, is that Baudville is going to donate 5x what was raised by employees, totaling over $5,000!
By now, many of you are probably tired of seeing the Ice Bucket Challenge in your news feed, but, just remember: it is raising awareness and money to help find a cure for Lou Gehrig's disease. The challenge has raised over 94.3 million dollars and that number keeps rising! I urge you to take the challenge or donate, too!
--------------------------
Krista is the 'ville's Web Marketing Coordinator. She came to us in 2012 as part of our stellar Sales team. Using her experience with Baudville customers, she helps create an online experience we're sure you will enjoy! Being the chatterbox she is, she truly misses talking with all of you so don't be shy and drop her a line!