And the winner is...

----


BAUDVILLE!

OK, OK, just kidding – but I tell you what, we are coming out with some fantastic trophies and awards.

One of my favorite parts of my job is being "behind the scenes" for much of the product development cycle—from the first idea, to the drawings, to the samples, all the way to the final production! Though I have absolutely nothing to do with developing new products, except a few "that's awesome" or "nice works" here and there, I have a front-row seat to our designers and creative team at work, every day. (Perks to working in the creative suite!)

September 19th, we have a gorgeous new trophy catalog that will be coming your way, but if you promise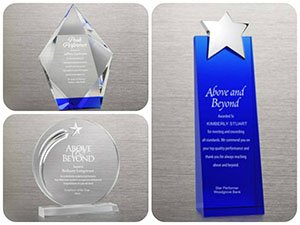 not to tell, you can get a first look as I share my new favorites!

Our Royal Blue Crystal Accent Trophy – Diamond is stunning! You can choose from our pre-written verses or completely customize this trophy.

Our best-selling Crystalline Tower Trophy is now available in blue, and seriously my favorite! It'll arrive packaged in a beautiful gift box, ready to give.

Looking for a lower price point? I highly recommend our new Star Acrylic Trophy - Circle.

I've heard there are even more to come. So, I guarantee Baudville's the place you'll want to look for all your award and recognition needs!

Oh! Did I mention, we engrave and ship in the same day! Read about this Baudville bonus here.

--------------------------

Jenny became a Baudvillian in 2013 and started out as a member of our sales team. She seemed to have a creative knack for Marketing and joined ranks with Krista in 2014 as Baudville's second Web Marketing Coordinator. She loves our products and probably owns every piece of drinkware we have to offer! Equipped with great knowledge of our customers and products, she's excited to help make your web experience even better.