I attended a conference last spring, given by an organization who shall remain nameless because of what I am about to tell you. It was actually a good conference, filled with useful info that I was able to bring back and apply to my daily work. But what I also brought back was one hideous-looking Certificate of Completion.

I put it up on my wall anyway because I was proud of my accomplishment. But, within moments, one of my coworkers commented on it (quite possibly how that word hideous got planted in my brain). It was shoddily laid out and seemed to just scream that it had been thrown together both quickly and carelessly. Exactly not what a certificate is supposed to portray.

The thing about certificates is that they are meant to be shown off. Which means they should probably look nice. Not just nice, actually, but impressive. And if you're going to the trouble of giving an award, it should represent the achievement accordingly.

This is not at all hard to do.

1. Start with the paper. Ask yourself: is this a formal or casual occasion? Can I use a preprinted sentiment, or is the award specific enough that it needs to be customized?

Our blank and pre-printed papers run the spectrum from elegant and distinguished to fun and informal. Really, if you can't find it here, it probably doesn't exist!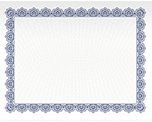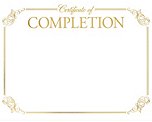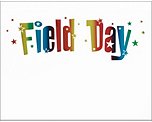 Bestselling Scallop Completion Bright-Foil Field Day
2. Follow with a sentiment. You don't have to be a wordsmith to write the perfect recognition message. In fact, we put some of our experts to work to provide you some helpful expressions for both the award title and the award description. You can find those and more in our Recognition Resource Center.

3. Finish with a presentation. This is not the time to say, "take one and pass it on." It's a moment of pride for the recipient and should reflect just that. Honor the achievement with a public ceremony, which can be as simple as a gathering in an open space in your department or as elaborate as a full stage production. Or, if your recipient would be more comfortable with a one-on-one, arrange for that instead. Gauge the occasion and do what fits best. No matter how you present it, there's no question that an elegant folder or frame will add a the perfect finishing touch.

When giving an award certificate, be sure to make it appropriate, thoughtful, and honorable—and it will be remembered for all the right reasons; not all the wrong ones!
--------------------------

Allison is a self-proclaimed Copywriting Diva and has the certificate to prove it! She's been writing for Baudville for two years and has worked in a variety of business settings for more than 17 years. Before becoming a professional writer 10 years ago, Allison worked as a department manager where she used Baudville products to motivate her team. She's what we call a true believer!