A while back, one of our customers contacted us about a post I wrote back in 2011, called How to Bring Health & Wellness to Your 'Ville. She wanted to start a wellness program at her office, but needed some help, particularly with launching a fitness challenge like the we one we do here every spring. I ended up sending her the materials that we use internally, but later thought: why not share these with all of our customers and followers?
That idea finally materialized, and now they're available to you as free downloads in RecogNation, our recognition resource center!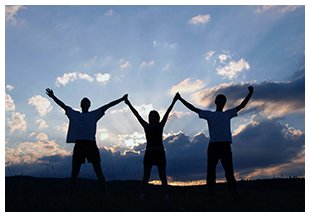 • Our Sample Guidelines document describes how we run our challenge and how points can be earned. We've been monitoring it and tweaking it over the years and have found these current rules to be fair and effective.
• Our Sample Enrollment Form is a great resource for learning about your participants' wellness goals. It can help you more easily form equitable teams by understanding motivation levels, current wellness statuses, and personal objectives.
• Our Sample Points Tracking Sheet is a form that fitness challenge participants can use to log their points each week. Captains collect these forms every Monday, either printed or electronically, and use them to tally their team's total points.
A fitness challenge is a great way to ease your organization into better health and wellness, and, as you make progress, you can build on it to create a year-round initiative. That's how we started at Baudville—it's worked for us and it can work for you!
For more ideas, visit our Health & Wellness section of the Blog, or check out these resources:
• Workplace Wellness: Take a Holistic Approach for a Whole Lotta Impact!
• Build a Stronger Health & Wellness Program with These Tips
• Four Expert Tips for Making Workplace Wellness Work for You!
• Don't Put Health & Wellness on Hold this Holiday Season!
Feeling inspired? Bring some employee recognition savvy to your inbox by subscribing to the Baudville Blog!

--------------------------

Allison is currently living out the elaborate fantasy she described to her now-former staff and colleagues in early 2001. With a hearty dose of courage and absolutely no plan of action, she abruptly left her middle-management job to become a writer—and today she is doing just that in her role as Baudville's Senior Content Writer. She's here to tell you everything she's learned in her 20-years+ professional life, plus a lot more. She's wordy like that!