Certificates are a popular award because of their low price point and easy customization capabilities. Because Customer Service Week and year end award ceremonies are just around the corner, I wanted to take a more careful look at certificate design to help you prepare for the busy award season!

There are three steps to creating an impressive certificate award. First, choose your components, such as paper, folder, seals, ribbons, and frames. Second, format the certificate design with templates and award verses. Finally, make a memorable presentation to the recipient.

1. Award Components
A certificate starts with your paper selection. Depending on the occasion, you may prefer a more traditional certificate design, like our popular scallop design. Or you may prefer the glitz and glam the foil certificate designs offer. One of the main benefits of the foil-stamped papers is the addition of an award title. Certificates have a variety of different sentiments, including "Excellence," "Certificate of Completion," or "Academic Star." Depending on the award occasion, the foil-stamped design can enhance your award.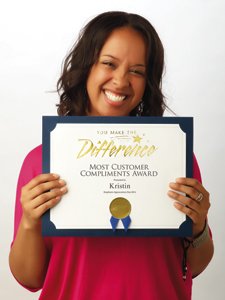 Once you've selected the certificate paper, choose a folder or frame to display the certificate. Rather than presenting the certificate on its own, the added display tool helps to make a grand impression on the recipient and anyone witnessing the award. Choose a certificate seal to make your award look official, and add a ribbon for color.

2. Certificate Formatting
To simplify the certificate design process, use a template that is already formatted with the appropriate margins and spacing. Next, decide what you want to say on your certificate. Visit our Certificate Idea Gallery for inspiration and download our Sample Award Certificate Titles for ideas. An award certificate design usually includes a title, award verse, the recipient's name, date, and the signature from a leader. The font you choose also contributes to the design. The award title should be the largest text on the certificate, and the recipient's name the second largest.

Font choice is also an important part of your certificate design. If your certificate is for a formal award, such as a service anniversary, you will want to use a formal serif font. But if you're having fun with certificates and using goofy award titles, you can have a little fun!

3. Memorable Presentation
The final step in the certificate creation process is presenting the certificate to the award recipient. Now that you've invested a lot of time and effort into carefully designing your certificate, you want to make sure your presentation hits the mark! Take time before your award presentation to consider what you want to say. Download our Award Presentation Guide for useful tips to help you prepare!


----------------------------
Cori is Baudville's in-house Recognitionista (she's officially a Certified Recognition Professional, too) and a member of the Millennial generation. Get her employee recognition tips and special discounts by liking Baudville on Facebook.