A wise man once said "My Fellow Americans, ask not what your country can do for you – ask what can you do for your country." If you know your American history, you know that was part of John F. Kennedy's famous inaugural address, delivered on January 20, 1961.
When I sat down to compile my thoughts on Memorial Day, I couldn't help but think of the start of summer, not having to work on Monday, boating on the lake, parades and so much more! But then I had to remind myself exactly what this day is about. It is to remember those who have given their lives while in the military. I haven't personally been affected, but I have many friends and relatives who have served or are currently serving in the military, and I can't imagine losing any one of them!
This weekend I attended a minor league baseball game, and it happened to also be Armed Forces Night. It was a beautiful night for baseball! Before the game started, they honored men and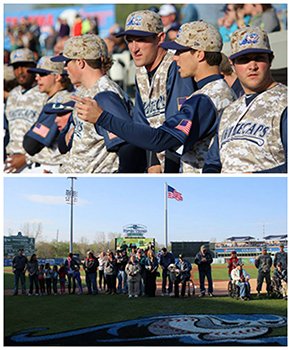 women who had been a part of the military. They also had family members of fallen heroes in attendance. It was amazing to see the 70-year-old, two-time Purple Heart survivor standing next to the mother of a fallen hero that was only 21 years old. Both had worn the same uniform, both had the same job, and both chose to not do what's best for them, but what was best for their country.
I am sure many of you have your Memorial Day weekend already planned out, but if you are need of some ideas, here's a quick list for you!
1. Attend a local parade. I just Googled "Memorial Day Parade" and there were tons near me! Grab your American flags and head down and wave them as the bands and local military go by!
2. Get in touch with your local VFW. When we were growing up, my grandpa always took us to a pig roast at the local VFW (Veteran of Foreign Wars) on Memorial Day Weekend. See what's happening with your local chapter, and get involved!
3. Attend a "Camo game" Just like this past weekend's game, there are tons of sporting events that will have themed nights like "Armed Forces Night" or "Military Appreciation Night" where the teams wear camouflage - just like military uniforms. Grab the family and attend a game!

Whatever you decide to do this Memorial Day Weekend, just keep in mind the true meaning of the day!

Thank you to all of those who have been in the military, who are currently in the military, and also to those who have given their lives while in the military. You truly have done what you could for your country!

--------------------------

Jenny became a Baudvillian in 2013 and started out as a member of our sales team. She seemed to have a creative knack for Marketing and joined ranks with Krista in 2014 as Baudville's second Web Marketing Coordinator. She loves our products and probably owns every piece of drinkware we have to offer! Equipped with great knowledge of our customers and products, she's excited to help make your web experience even better!