When you think of Thanksgiving, what are some of the traditions that come to mind? Many think of turkey, large amounts of food (oh man, the food is so good!), football, Black Friday shopping, and family. Like most holidays in America, this holiday often becomes commercialized and the true essence is lost.
Thanksgiving is a time to be grateful – grateful for our family, friends, and lives. Because of this, Thanksgiving should most definitely be celebrated in the office. Be thankful for where your company is at, be thankful for the co-workers you have, and be thankful for another year in business.
To help you celebrate Thanksgiving in the office, we've pulled together a few different Thanksgiving party ideas that will make for a gobblin' good time!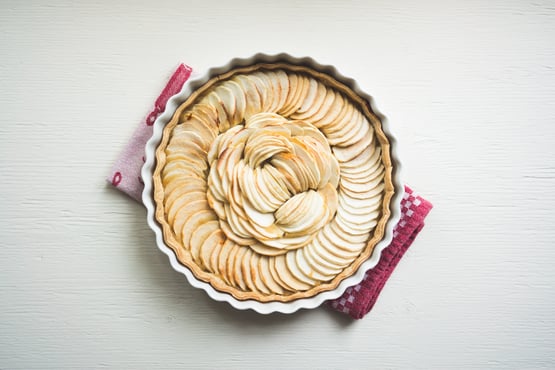 Tips for Celebrating Thanksgiving at Work
Thanksgiving Office Potluck Ideas
All good Thanksgiving parties include an office potluck. Take your potluck to the next level by making it themed. You can get pretty creative with these – so have fun!
Thanksgiving Potluck Themes:
Chili Only: ask your team members to only bring in a chili related item, bonus points if it's turkey chili!
Healthy Twist: shake things up and request that the items brought are low in fat and good for you – this is a great idea if you are doing a Hold it for the Holidays program!
Eat Like the Pilgrims: host a traditional Thanksgiving potluck with items that would only be served during the first Thanksgiving. That means seafood should make an appearance!
Just Sides: Since bringing in a turkey to the office isn't the most practical of dishes, just have the yummy sides. Please pass the cheesy potatoes!
Download our free, helpful Potluck Sign Up Sheet for your next potluck.
Do more with your Thanksgiving potlucks by including other grateful activities, like spreading the appreciation with our free Thanksgiving themed Print 'N Posts.
What to Bring to a Thanksgiving Potluck at Work
Sometimes classics are better left alone, but not in this case! We found four recipes that take Thanksgiving favorites and give them a whole new look.
For more recipes suitable for a potluck at work, check out our Pinterest board and don't forget a festive drink – free downloadable recipes here!
Thanksgiving Games to Play at Work
Why should all the fun be had at home? Here are two Thanksgiving games you can play at work.
Pumpkin Bowling (Kind of Like Charlie Brown's)
This game comes from the genius of Medium, and we can't love it more.
All you need are pumpkins (we like the idea of the hall version of this game), empty 2-liter bottles, and a spirit to win!
Set up the pins like you would in bowling down a hallway and take turns rolling the pumpkins to get a strike!
Laughter and fun are guaranteed.
Thanksgiving Mad Libs
Small Stuff Counts created this Mad Libs game, and it is a great game to play while everyone is enjoying the chili!
Download the free printables here and get ready for a good time!
Thanksgiving Work Decorations
The food is figured out and the games are decided, but how should the office be decorated for Thanksgiving? We've thought of a few ideas for that too.
Pumpkin Floral Arrangement
Gather seasonal flowers and arrange them in a hollowed-out pumpkin. These arrangements can be displayed throughout the office and brighten up any space! We love this design!
Leaves on a Branch
Okay, it's way cuter than it sounds but these hanging leaves would be the perfect Thanksgiving touch to any cubicle or office! Check out this DIY décor idea from Happiness is Homemade here.
Pumpkin Pie Garland
Since pumpkin pie is basically the best part of Thanksgiving, create your own garland in honor of it and proudly display it around the office. Our favorite pumpkin pie banner comes from Say Yes – get their DIY instructions here.
How to Say Thanks at the Office for Thanksgiving
With Thanksgiving being a time of gratefulness, it's important that you give thanks to those around you in the office. Thanks for busting their butts to hit deadlines, for helping you finish that important project, and always being a cheerleader for you. Here are some ways you can say thanks.
Is it too much to say, "you keep me sane"? Thanks for being an incredible colleague and human being! I am grateful to work beside you each day. Have a wonderful Thanksgiving!
Thank you for bringing your positive attitude to work every day. I hope you have an enjoyable Thanksgiving with your loved ones!
Thank you for everything you do to make this a successful and terrific place to work. Have a wonderful long weekend filled with good things. Happy Thanksgiving!
Looking for more Thanksgiving messages?
Need help planning your holiday party as well? We've got you covered with the dos and don'ts to help keep you off Santa's naughty list! Check out our party planning blog!