Now for all of you that think this is a made up holiday, you may be right. But why not let your employees take a little break to have some fun? According to recessatworkday.com, participating in this holiday could prove to be beneficial to your company. Taking breaks during the work day is important and can help reduce stress, increase productivity and can even improve employee morale.
I know you're all wondering, how are we celebrating Recess at Work Day? Well, here at the 'ville we decided to hold Recess at Work Day a day early. After all, who says you have to play by the rules?
It was a stormy day so we couldn't play outside but that didn't stop us from having a little fun. A series of games were set up inside by our Fitness Challenge captains and the Bod Squad. The games included a basketball relay, cup toss, soccer obstacle course and a chair race. The goal was to see which team could get through all of the games the fastest. Having trouble picturing the games? No fear, we can illustrate through pictures!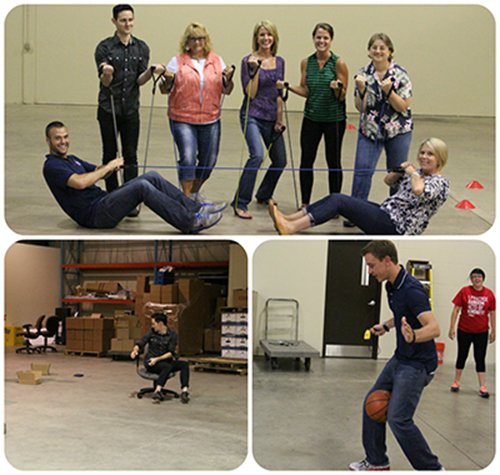 We enjoyed some friendly competition while working up a sweat and taking a little break from our normal, every day tasks! We hope you will do the same! If you want the official rules of our Recess at Work Day games so you can play at your office, email recognition@baudville.com! Enjoy Recess at Work Day 2014!

--------------------------

Krista is the 'ville's Web Marketing Coordinator. She came to us in 2012 as part of our stellar Sales team. Using her experience with Baudville customers, she helps create an online experience we're sure you will enjoy! Being the chatterbox she is, she truly misses talking with all of you so don't be shy and drop her a line!