What better way to end a short week following a holiday than to celebrate with doughnuts?
The first Friday in June is National Doughnut Day, a holiday started by the Salvation Army in 1938. National Doughnut Day was created to honor the young women who volunteered during World War I and World War II to feed and encourage soldiers with hand-made doughnuts. These women took their doughnuts onto the battlefields of France to simply offer some comfort and cheer. The tasty treat was so popular with the soldiers that they demanded doughnuts when they returned to the states. And an industry was born!
At Baudville, we like to include this holiday on our Recognition Event Calendar because it's a great opportunity to celebrate as a team. Encourage managers to bring in doughnuts tomorrow for their team or host a doughnut potluck featuring treats from your favorite doughnut shops (Marge's Doughnut Den is the clear local favorite in Grand Rapids).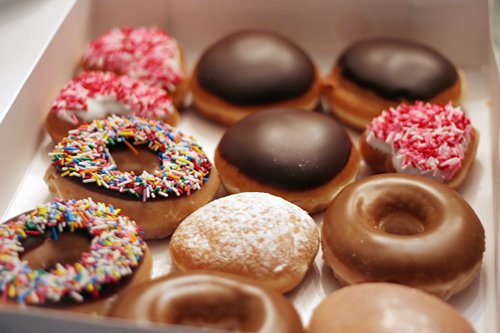 Yum. Deliciousness.

Schedule a doughnut and coffee break for your entire team tomorrow morning, and use the time to socialize, recap the week, and talk about upcoming events or projects. Celebrating as a team – even small holidays like National Doughnut Day – is an easy and fun way to build team spirit and camaraderie.
Interested in more team building ideas? Then watch our Team Building Ideas Recognition TV webisode. It's full of fun and low-cost team building ideas that will motivate, engage, and encourage. As usual, our Recognition TV webisode is only 15 minutes, so you can get some great ideas in the amount of time it takes you to enjoy a cup of coffee!
----------------------
Cori is Baudville's in-house Recognitionista (she's officially a Certified Recognition Professional, too) and a member of the Millennial generation. Get her employee recognition tips and special discounts by liking Baudville on Facebook.