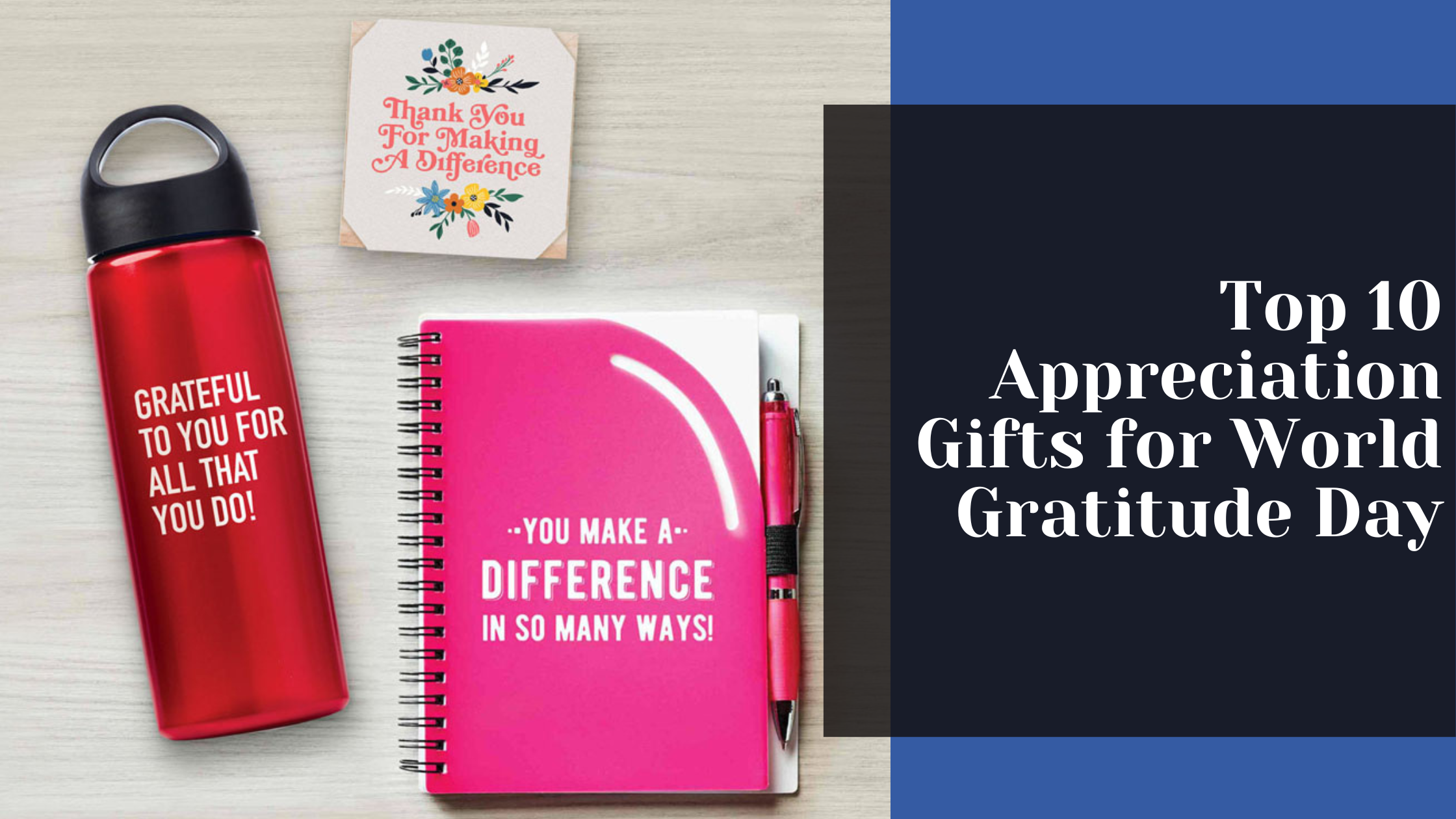 Top 10 Appreciation Gifts for World Gratitude Day
World Gratitude Day is on Wednesday and
has been designed to bring the whole world together in a day that is all about being thankful. World Gratitude Day joins organizations, nationals, and individuals in sharing their gratitude in a number of different ways.
"In business, we express gratitude by recognizing specific people and actions that made a difference." (source)
Each day in our offices we start by saying thank you to both bosses and colleagues. It is important each day especially on World Gratitude Day to be authentic and mean what you say. It can be easy to overlook the contributions of your company's most important asses: your team. Acknowledging them on this day helps to make your employees feel valued, enhances their motivation, and goes a long way towards developing a sense of belonging in organizational values.
Verbalizing your thanks on World Gratitude Day is an important first step but giving a small gift as a token of that gratitude carries a lot of weight as well.
Everybody loves getting a gift!
In fact, employees cherish these tokens of gratitude no matter how big or small the gift may be, but what is the perfect employee gift? There are many factors to consider when searching for a gift of gratitude. What relationship do you have with your workers? What message do you want to send? Does this fit our workplace culture?
Below are our Top 10 Appreciation Gifts for World Gratitude Day!
Refresh & Reset Kit - Appreciated
After a hard year of work let your teammate know they can unwind and treat themselves with our Refresh and Relax Gift Set.
Colorific Value Journal & Pen Set- Thanks For All You Do
Increase recognition without blowing your budget! This set includes a softcover, full-color notebook with lined pages and a pen to recognize your office rock stars.
Luminous Value Water Bottle - Grateful to You
Your appreciation will radiate on this sleek water bottle. It features a wide-mouth for easy filling and is top rack dishwasher safe!
Elegant Glass Paperweight
Made of beautiful jade glass with beveled edges that let's your message of gratitude shine through!
Colorful Pen Pack - Smart Sayings
With a soft-touch grip, gel tip, and witty recognition sayings, these pens will be everyone's new favorite - whether they're signing official documents or doodling away in their notebook.
Executive Carbon Fiber Pen Gift Set

Give a classy and modern gift of gratitude and imprint your favorite Character Story on the lid of this exceptional executive pen set!
Charming Copper Keychain - Together We Make a Difference
Your employees, teammates or volunteers are the key to your success, and our charmed, mixed-metal keychain will tell them just that!
Value Wide Mouth Wellness Bottle - Awesome Team
This low-cost sports water bottle includes tethered twist-on lid with wide-mouth opening for extra hydration!
Appreciation Plant Cube - Petal to Metal
Sprout some thanks with our best-selling Appreciation Plant Cube! Featuring a sentiment of joyful appreciation, this reminder of thanks is sure to grow the distance.
Cheer Pin Bundle - Classic Appreciation Set

Pinpoint your appreciation with this five pack of enamel pins that express whole-hearted sentiments in celebration of your blockbuster team.
Giving gifts of gratitude have been studied and have shown to generate a positive impact on our health and well being.
"In positive psychology research, gratitude is strongly and consistently associated with greater happiness. Gratitude helps people feel more positive emotions, relish good experiences, improve their health, deal with adversity, and build strong relationships." (source)
The idea in celebrating World Gratitude Day is to think about what you personally or what the company as a whole is grateful for and then express that gratitude with your colleagues. This is an important habit to maintain everyday but makes a big impact on this day. Remind yourself that a little bit of gratitude goes a long way and it is important to help people feel appreciated for everything that they do.
More Fun Reads on Gratitude & Appreciation
Inspire Your Team w/ Budget Friendly Corporate Gifts
Remote Ways to Show Appreciation to Your WFH Employees
Interested in chatting with your rep? Find your account manager here - and they'll touch base with you to find a good time to discuss your vision!
We've had the privilege of working with some amazing organizations to develop a branded, special experience for their team. We appreciate their trust in finding the perfect fit, and we're so excited to highlight how they turned out!
Whether you're just dipping your toe into the custom experience, or you're an old hand at it, we know that together we can pair up to make an amazing impact for you and your organization!
Want more content like this? Subscribe to our emails!