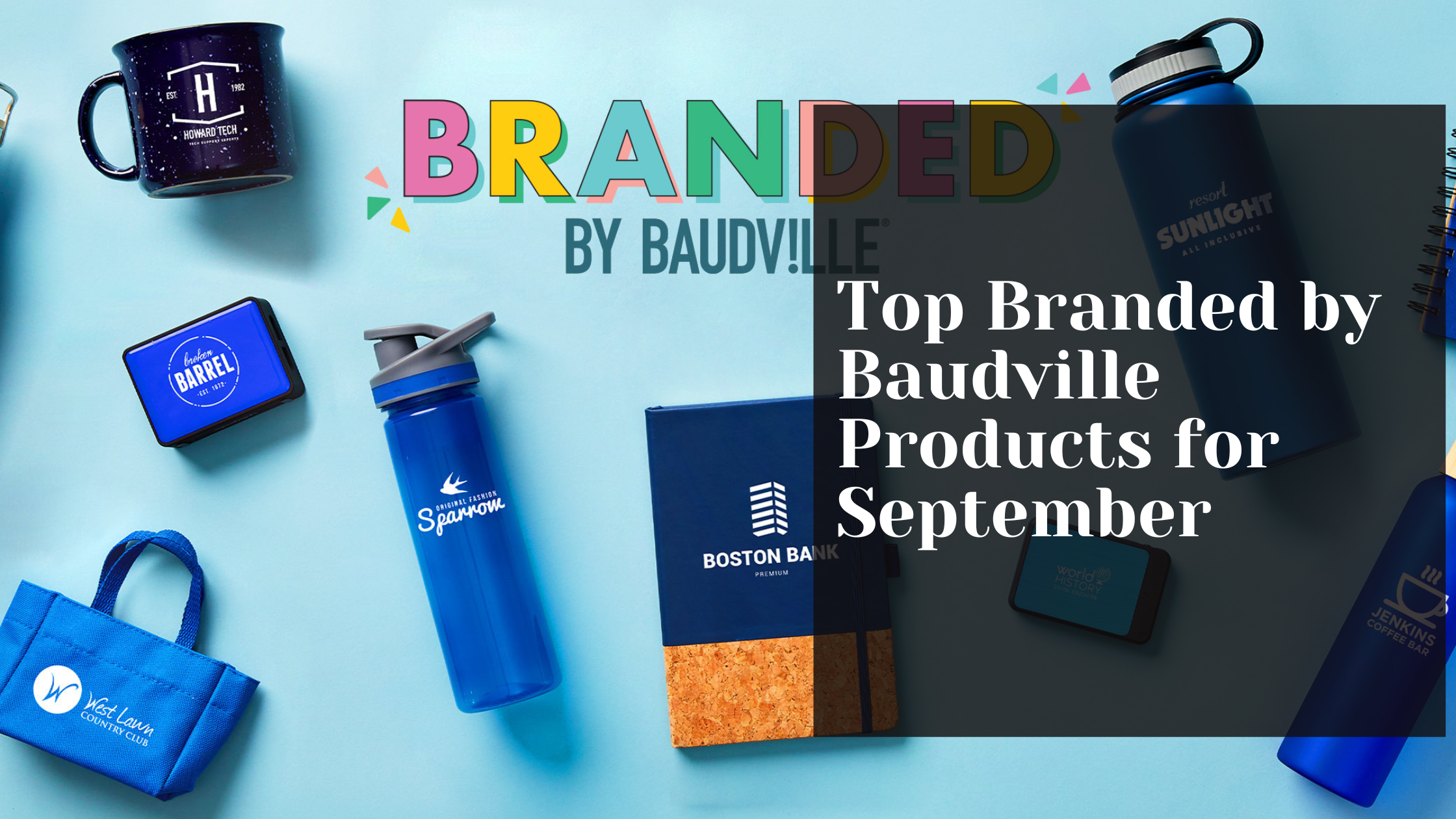 Top 10 Branded by BV Products for September
Sending your employees and customers branded gifts is a great way to make an impact and send a message. You'll find a wide variety of custom promotional products from Baudville that they won't stop talking about. Whether you're looking for bags, drinkware, office supplies, or tech, we've got options to show off your company message and grow your culture.
You will find article after article boasting about how happy employees are likely to remain employees longer than unhappy ones. This statement is absolutely true and important to remember. A branded gift is a great way to boost morale and remind team members that they are valued. It is important to invest in the relationship between employees and your brand as this will not only help develop your culture but will go a long way to keeping talented employees for years and years on end.
Custom branded gifts that are given on behalf of your company can help create a sense of pride for the people that work there. A positive company culture is built on the foundation that people are excited to show up to work every day and build something meaningful together. Try these top 10 products to make a statement of appreciation!
Add Your Logo: Small Cutting Board
Sturdy Bamboo cutting board, engraved with your logo. Please note: Simpler logos will display better, small text will fill in.
Add Your Logo: Roll-Up Blanket
Roll-up blanket is a great way to keep them warm at outdoor events and promote your brand! Add to your company store or giveaway at the company picnic.
Add Your Logo: Around Town Tote
Pack this bag with essentials you'll need all day. Its large interior pocket and 22.75" handles allows you to tote whatever you need confidently!
Add Your Logo: Window Blossom Kit
The perfect botanic accent for the home or workspace, this kit adds an undeniable verdant sensibility to just about any indoor space. This 9-1/2" wide version of the quintessential window box planter comes with everything required to begin growing your very own indoor garden.
Add Your Logo: 42" Budget Umbrella
They'll never be so happy to see your brand as attached to this rainy day life saver! This is a budget friendly option for your marketing promotion.
Add Your Logo: 20oz Slim Stainless Travel Tumbler
Finally, a tumbler that is almost as great as your appreciation! These 20 oz chic colored tumblers are hard to ignore and their size is sure to keep them hydrated.
Add Your Logo: Good Mornings Jumbo Mug
Cool and Zen colors compliment this modern shaped mug. Your mornings will start on more calming note with your coffee or tea of choice.
Add Your Logo: Bamboo Wireless Charging Pad
This bamboo wireless charging pad with dual outputs allows you to charge your smartphone without the cables and charge other phones with two USB output ports at the same time.
Add Your Logo: Poppin Gourmet Gift Set
The perfect set of flavors for your favorite flick! A great gift for an office, college welcome, event swag or a memorable thank you or client gift.
Add Your Logo: Fuzzy Fantastic Socks
Sometimes your toes need more comfort than anything else. Put on something fantastic with our cozy fuzzy socks and strip away the stress.
The overarching question to take away from this list is Is Branded Swag Worth the Investment? The quick answer would be yes, but each company would need to weigh the pros and cons of that investment in their overall plan for growth and their overall definition of what their culture is or what you want your culture to represent. Ultimately, a simple act of giving a branded gift to an employee is about the connection and making moments matter. As the article states whatever you give is a reflection of what your brand represents. Making an effort to give branded gifts will go along way towards growing employee engagement and that is worth the investment.
Interested in chatting with your rep? Find your account manager here - and they'll touch base with you to find a good time to discuss your vision!
We've had the privilege of working with some amazing organizations to develop a branded, special experience for their team. We appreciate their trust in finding the perfect fit, and we're so excited to highlight how they turned out!
Whether you're just dipping your toe into the custom experience, or you're an old hand at it, we know that together we can pair up to make an amazing impact for you and your organization!
Want more content like this? Subscribe to our emails!