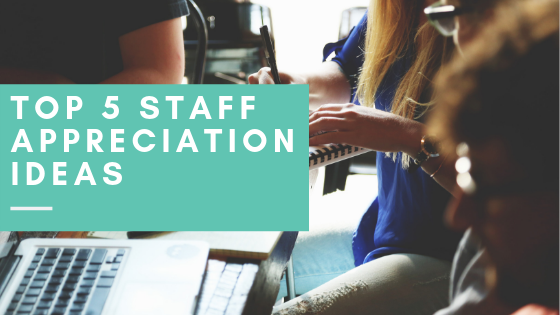 Appreciation is good for the soul all year long. Whether it's helping out a fellow team member with a client request, making that extra pot of coffee, or covering the phones – acts of kindness and above and beyond efforts deserve some recognition.
Here are the top five ways to give employee appreciation any day of the week.
On the Spot Recognition Gifts
A little sweet treat or pen of praise is a great reward for daily recognition. Appreciating small victories with a small gift makes your team members feel appreciated and valued.
ePraise Away!
Send a little note of recognition straight to their inbox with our FREE (yes, free!) ePraise ecards. Just select your favorite design for the occasion, add your recipients email address, write your sweet note of praise, and send!
Treat Them to Lunch
Everyone likes lunch. Take them out to their favorite spot for grub or order in! Treating them to a special meal allows you to show your appreciation and spend more time getting to know them – it's a win-win!
Bring in a Special Treat
Did someone say treat? Have you ever heard of anyone turning down a special treat? Donuts, bagels, or their favorite brew from Starbucks is an easy way to show appreciation, just pick it up on your way into work.
This is also a great way to show appreciation to your whole team!
Have 'Em Head Out Early
Letting your team scoot out of the office is always appreciated and a great way to treat them, especially if it's nice weather! If you're able to let your staff leave a little early (keeping in mind it wouldn't effect your customers), then take advantage of this essentially free way to boost employee happiness and morale!
More Good Reads on Appreciation
33 Employee Appreciation Messages to Boost Your Company's Culture
Why Personal Recognition is of the Utmost Importance
Last Minute Ways to Show Your Appreciation!
5 Genuine Ways to Thank Your Employees
Get ideas and inspiration on #makingworkhappy by following our blog! Sign up here.