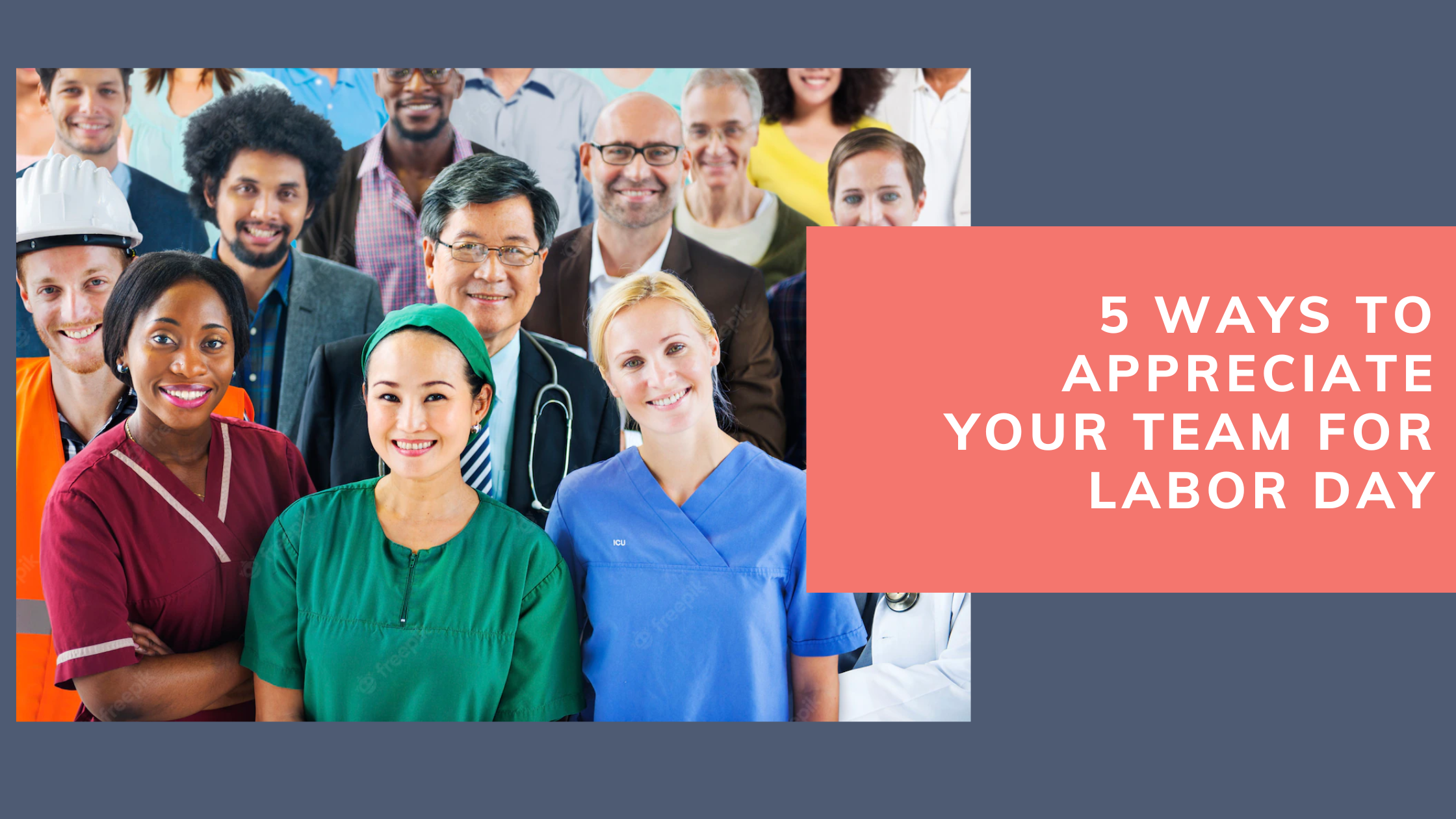 Top 5 Ways to Appreciate Your Team for Labor Day
This year, Labor Day falls on Monday, September 5. This holiday is celebrated as a way to pay tribute to the contributions and achievements of American workers. While many people get to take the day off, frontline workers are the backbone of the labor force, and often spend Labor Day on the job.
Do for those who are still on the job either in office or working from home, what are the best ways to share your appreciation for their hard work? You might think that money is the best motivator, but often the best rewards and recognition come in other forms.
----"80% of employees stated recognition is a strong motivator of work performance and 70% stated they would work harder with continuous recognition."------
Work is so much more than showing up and checking items off a list. Today, people want more in their relationship with their careers. They look for employers who are supportive and appreciative. Below are the top 5 ways to appreciate your team this Labor Day!
Hand out awards.
Show appreciation for your employees by providing awards. You can ask employees to nominate and vote for the winners a week or so in advance. Give out fun awards like a best team player, most company spirit, and happiest camper. Consider getting small, personalized trophies for the winners, or think about printing and framing certificates for the awardees.
Offer praise.
In these high-tech days, something personal like a handwritten note goes a long way towards showing appreciation. For Labor Day, take the time to write notes for employees thanking them for their hard work and loyalty. If you have to go the digital route look to e-praise for your recognition solution and upload to your teammates news feed this will then be seen by your whole staff and they can add in additional comments of praise as well. Using someone's news feed is the modern equivalent of a comment card, which, yes, does still exist but who carries a pen to fill it out anyway?
Keep recognition at the ready with our Pocket Praise note cards. Pocket Praise are a quick, meaningful way to recognize employees, co-workers, or anyone who's done a great job.
Top e-praise sentiments
Be Sweet: Nothing says Happy Labor Day better than laboring over a gift to your employees, especially an edible one. A tray full of cookies, or cupcakes will be a hit. Your employees will know you were thinking of them, and that you worked to offer them something sweet. You could also get them a sweet treat with a great appreciation phrase.
We've taken our best-selling drinkware and given it a bit of sweetness! At 13 oz, it's perfect for any cup of coffee or hot cocoa. And with an added bag of candy, it's the perfect gift to leave on someone's desk to congratulate them for a job well done.
Public Appreciation: Fundamentally, we all appreciate being appreciated and valued. When you publicly acknowledge an individual's achievements, you affirm the choice they made to work for you. It connects them to you and motivates them to achieve more. By taking your appreciation public, you are essentially announcing to your entire organization that you value the employee. This especially caries more weight when senior leadership is doling out the praise.
"When senior leaders are actively involved in employee recognition, organizations are nine times more likely to have strong business results." (Source)
Give silly gifts: If your budget allows it, you can give fun and silly gifts to top employees or, share the love with the entire staff. Unique gifts don't have to be expensive and your staff will appreciate the thought of a small token of your appreciation.
Silly Gifts to Show Your Gratitude
Tie Dye Mood Pen Pack
Cheer Pin Bundle
Appreciation Plant Cube
At the end of the day, anything that you can do to show acknowledgment for your employees' hard work will be much appreciated. However, remember to keep your acknowledgement heartfelt and sincere. The more sincere your acknowledgement is, the more it will mean to your employees.
Get a head start on your Labor Day activities by enjoying 15% site wide off your order. No minimum required. Our offer runs through 9/8 Use Coupon code LABORDAY22 at checkout. (Shop Now)
Interested in chatting with your rep? Find your account manager here - and they'll touch base with you to find a good time to discuss your vision!
We've had the privilege of working with some amazing organizations to develop a branded, special experience for their team. We appreciate their trust in finding the perfect fit, and we're so excited to highlight how they turned out!
Whether you're just dipping your toe into the custom experience, or you're an old hand at it, we know that together we can pair up to make an amazing impact for you and your organization!
Want more content like this? Subscribe to our emails!