We know nurses are always on the go, on their feet, and on their game. So, for National Nurses Week, why not give them the gift of:

Convenience. Travel mugs, tote bags, and key chains are all gifts that busy professionals can use every day. Plus, they give a constant reminder of your appreciation.

Comfort. Being run ragged all day can take its toll. A sweet treat can go a long way in giving your nurses a little boost along with a little appreciation. Any of our edible gifts would make your nurses feel extra special this National Nurses Week.

Encouragement. Sometimes people just want to know that they're appreciated. A simple thank you card with a personalized, handwritten note can go a long way.

Opportunity. Breaks don't come often in the nursing profession. A little time off—or something just as valuable, like a free lunch, snack, or coffee—could be all your nurses need to recharge.

Admiration. Show them some respect by giving a gift they will carry with pride. Healthcare lapel pins attach perfectly to scrubs and carry inspiring messages that your nurses will be thrilled to show off, and drinkware makes a great gift they'll use every day.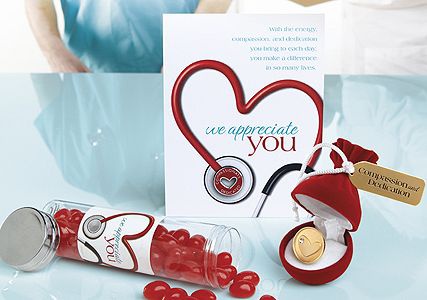 So, there you go! Now go out there and celebrate your hard-working nurses!