Years (and years) ago, I was working as a document editor at a mortgage company. I progressed quickly and found myself just three years later leading a department of 21 people. It was around this time that I had the privilege of attending a week-long 7 Habits of Highly Effective People® workshop. This course was one of those monumental growth experiences that I mark as a milestone in my career. I learned to focus on putting first things first and the importance of sharpening the saw. But, my biggest takeaway was this quote by Stephen Covey:
"If the ladder is not leaning against the right wall, every step we take just gets us to the wrong place faster."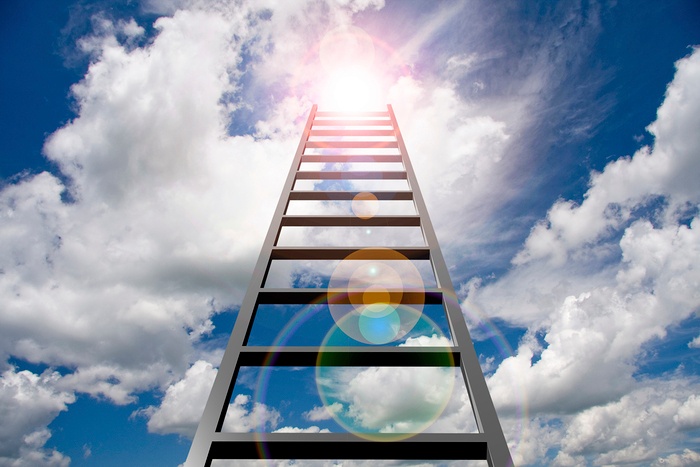 This gave me pause. I was successful, wasn't I? I was well paid, I was in charge, and I had a few more rungs to climb before I hit the ceiling. #winning, right? But, I was not happy or fulfilled. I realized that just as Covey prophesied, I was going nowhere fast.
When I decided it was time to give my notice, my company tried to entice me to stay. It didn't work—lucky for me, and, in this case, luckier for them. But wait—they were about to lose some pretty valuable talent. Why were they lucky?
At Baudville, we talk a lot about retaining top talent and engaging your workforce. We know that to replace an employee it can cost up to 300% of that person's salary. But, we also know that disengagement can be far more expensive—both financially and culturally. For my situation, the moment it hit me that I'd lost that lovin' feeling, I became disengaged. I wasn't an asset anymore; I was a living, breathing, walking foot out the door. Had I decided to accept the tempting offer to stay, it would have been the company that suffered more than me.
So, when to retain and when to let go?
Ideally, you can have retention AND engagement. In fact, better engagement can lead to better retention. But, if you're dealing with an employee who isn't a fit at your company, whether it's because their career goals don't align with their position or their personality doesn't mesh with your team, turnover may not be such a bad thing.
As a leader, it's your job to know (or find out) who is truly passionate, who is capable of getting there, and who is just showing up every day. It is also, at least in part, your responsibility to help your staff grow, learn, and develop—even if you know that eventually they might expand outside of your four walls. We believe this wholeheartedly at Baudville. In fact, when asked about his proudest career moment, our President & CEO, Brad Darooge, summed this concept up just right:
"I feel proud each time someone who has worked for me is given a new opportunity to advance their career—even if it is outside our company. There is nothing more exciting for me than new challenges and opportunities, and I take great satisfaction knowing those who've worked for me get to grow and change."
If it's just a matter of re-engagement, you can fix that. You can start with the ideas in this helpful post by Falon. But, if it's bigger than that, don't cling. By accepting and supporting when an employee needs to move on you will strengthen your culture and focus your engagement efforts on the right targets.
---
Allison is currently living out the elaborate fantasy she described to her now-former staff and colleagues in early 2001. With a hearty dose of courage and absolutely no plan of action, she abruptly left her middle-management job to become a writer—and today she is doing just that in her role as Baudville's Senior Content Writer. She's here to tell you everything she's learned in her 20-years+ professional life, plus a lot more. She's wordy like that!