The Society of Human Resource Management (SHRM) Annual Conference starts on Sunday, June 26, and the Twitter world is already a buzz with attendees connecting, sharing tips, and preparing for the conference. We asked our team of veteran attendees what advice they would offer SHRM conference goers. Read their advice before you pack your suitcase and head to Vegas!
1. Wear comfortable shoes. You do a lot of walking inside the convention center. That exhibit hall is bigger than it looks! Cori, Marketing Communications Specialist
2. Bring a sweater. It may be hot outside, but usually the air is cranking inside the convention center. Cindy, HR Manager
3. Make a conference plan. The SHRM Annual Conference can be overwhelming with all the session options and hundreds of exhibitors. Set goals for the show and make a plan to make sure you get to the right sessions and vendors. Cindy, HR Manager
4. Bring something back for your team in the office. Your team held down the fort while you soaked up the learning (and some sun), so recognize their extra efforts! Take back a small gift for each member of your team. Lilly, Product Art Manager
5. Network. Share ideas and make friends with other SHRM attendees. One of the best parts of the SHRM Annual Conference is talking to attendees and meeting new people! Lilly, Product Art Manager
6. Take advantage of the free giveaways. The SHRM expo hall is known for its giveaways and freebies. In our booth, you'll find super tote bags and delicious cupcakes. We'll also introduce you to our sister company, IDville. David, Inside Sales Representative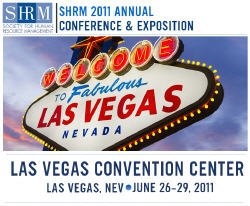 7. Attend an after-hours event. Last year's Tweetup was a great place to meet with attendees in a more casual and slower-paced environment than the exhibit hall. For a list of the different events happening at the conference, jump over to the Blogging4Jobs blog. Cori, Marketing Communications Specialist
8. Be inspired. Take advantage of being in a new city and a change of scenery. Find something that can inspire a new project. Last year in San Diego, I took some photographs of a ship in the harbor that I incorporated into an art piece. James, Designer
9. Learn a lot. The SHRM conference is the premiere place for HR professional development, and the sessions should be the first priority for attendees. But the learning doesn't end when the sessions do! Make an effort to learn from other attendees and exhibitors. They have lots of good information and tips to help you do your job better! Cori, Marketing Communications Specialist
10. Have fun! Even though SHRM is a business trip, it's a business perk! Go ahead and explore the new city, meet new people, bond with team members, and make memories. Take advantage of your time outside the office. Lilly, Product Art Manager
Learn more about Baudville at the SHRM Annual Conference. We will have lots of exciting things happening in booth #3427!
-----------------------
Cori is Baudville's in-house Recognitionista (she's officially a Certified Recognition Professional, too) and a member of the Millennial generation. Get her employee recognition tips and special discounts by liking Baudville on Facebook.