Your culture plays an important role in attracting talent, retaining valuable employees, and succeeding as an organization. So what do you do if your culture is described as negative, employees are fighting, and turnover rate is double the industry average? We recently worked with a Michigan organization with these symptoms and helped them implement a strategic employee recognition program. After the program had been in place for merely 30 days, the organization experienced dramatic improvements.
Our most recent episode of Recognition TV shared the story of Grace Haven, the organization described above, and how they transformed their culture with recognition. You can read the entire Grace Haven employee recognition success story on our website and watch the Recognition TV episode in our Recognition Resource Center.
After working with Grace Haven, we created a Prescription for Success that you can use in your organization to create a more positive and successful work culture. There are only seven steps outlined below that are simple and low-cost.
1. Form a team.
When we worked with Grace Haven, two recognition specialists dedicated their time to working on the project. You may be too busy to dedicate all your time to the recognition program, so recruit some help. Build a small team with a mix of employees and managers from several different departments. They will serve as your champions in their respective teams and serve as recognition liaisons for the organization.
2. Get employee feedback.
Gather employee feedback and measure employee engagement by administering an employee survey, holding focus groups, and conducting interviews with employees. You can download a copy of the Grace Haven employee engagement survey. Conduct the survey before the program start and at 30 day intervals after its implemented to create a baseline and measure your progress. Whenever you receive feedback on your work culture, it's important to be open to listening to criticism. It will be the hardest part, but also the most helpful in turning around your culture.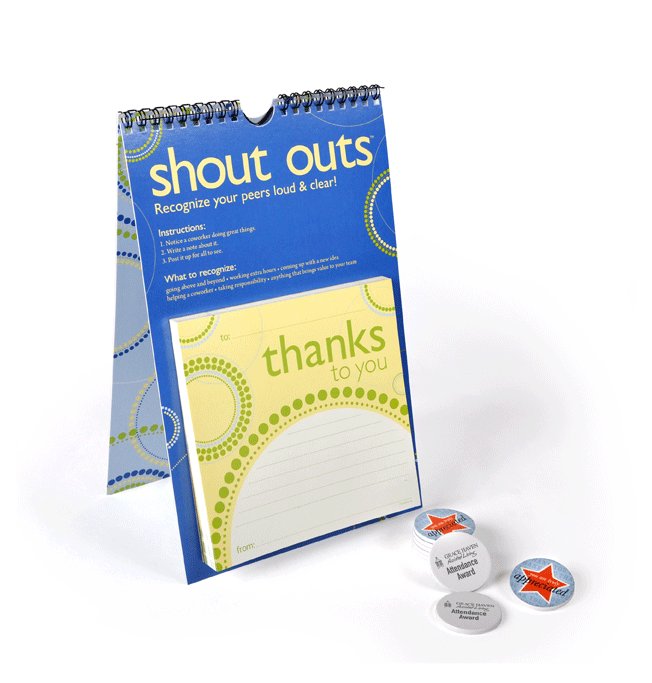 3. Determine recognition program goals.
The data collection process provides valuable input into what areas of improvement you should focus on with your recognition program, and involving employees early on will make them feel like part of the process. Some example goals include:
 Areas that need improvement
 Ways to improve those areas
 What behaviors do you want to reinforce
 Any culture issues
4. Create programs that align with goals.
Your strategic recognition programs should be tied to your goals and objectives. At Grace Haven, we connected the programs to our goals of increasing morale, teamwork, and improving attendance. At this step in the process, determine what tools you want to include in your program. At Grace Haven, we used Shout Outs and Tokens of Appreciation. Use your survey results and input from your team for reward ideas.
5. Communicate with your team.
Communication is key to a recognition program! You will want to keep employees updated on your progress and make information readily available. At Grace Haven, we attended multiple meetings and held a kick off the day the programs launched. Take the time to explain how the programs work, and how employees can participate. You'll also need to do some basic training.
6. Implement your recognition program.
Now, use the program! Your team needs to take the lead and be the champions by practicing recognition regularly and answering any questions from staff.
7. Encourage change.
Your recognition program is never complete, so regularly seek feedback from employees. Tweak things as necessary to keep the program enticing to employees. For example, a Grace Haven employee suggested that the rewards change periodically to remain a strong incentive for employees. Your constant attention to the program and willingness to make changes will maintain momentum in the long run and ensure long term success of your program.
Download the complete Grace Haven employee recognition success story.
------------------------
Cori is Baudville's in-house Recognitionista (she's officially a Certified Recognition Professional, too) and a member of the Millennial generation. Get her employee recognition tips and special discounts by liking Baudville on Facebook.