Regular recognition is an important part of keeping your team motivated and engaged, but coming up with creative ways to recognize can be difficult. To help keep your team engaged all year long, try a few of our unique ways to recognize your team.
Recognition's in the bag.
Get the entire team involved in your recognition efforts by putting together baggies filled with Pocket Praise cards and Appreciation Tickets. Hand out a baggie to each member of your team and tell them to be generous writing notes to teammates. Make a place on your bulletin board and encourage recipients to post their cards for the entire team to read.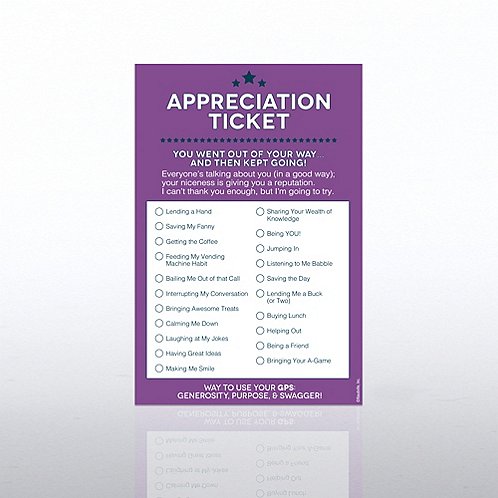 Give your team our new Appreciation Tickets for peer recognition!
Create your own holiday…and celebrate it!
There doesn't have to be an official holiday on the calendar for you to celebrate with your team. Hold a contest to name the holiday that honors your team, and plan a team celebration that includes good food, socializing, and some time away from work.
Host a team award ceremony.
Recognize the unique attributes of each of your team members by hosting an informal team award ceremony, and don't wait for the end of the year! Hold this ceremony during a lunch potluck. Create a unique award title for each teammate and present them with an award certificate. Review our sample employee recognition award certificate titles to get ideas!
Add a note to pay checks.
A simple and no-cost way to recognize your team is to add a short note of praise to their paystub. The unexpected note will surprise employees and is sure to make their day!
Give the gift of time.
Show your team you value their time by rewarding them with time off! Whenever you spot a teammate doing something above and beyond, write a note describing the behavior and present them with a Token of Appreciation. The tokens can be redeemed for 15 minute intervals to come in late, enjoy a longer lunch, or leave work early - whatever you decide!
VIP Parking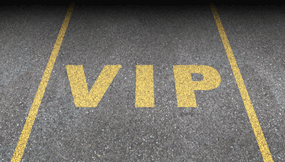 Arrange to have a VIP parking space for a member of your team. Every week, recognize an outstanding team player during your team meeting by presenting them with an award certificate that entitles them to use the parking spot for a week. Award a different person next week. Your team will love the convenience of parking close, and the weekly award will keep everyone engaged.
Quick Tips
Some of the best ways to recognize your teammates are free. With the right spin, a small and simple action becomes a memorable way of saying "thanks." For example:
- Send an ePraise.
- Wash an associate's car.
- Change roles for the day.
- Let an employee attend a meeting in your place.
- Designate a VIP parking spot.
- Put a Print and Post note on their computer monitor.
- Invite a deserving pet-lover to bring their pooch to the office for the day.
- Allow them to leave early or take a long lunch.
---
Jenny became a Baudvillian in 2013 and started out as a member of our sales team. She seemed to have a creative knack for Marketing and joined the team as Baudville's Web Marketing Coordinator. She loves our products and probably owns every piece of drinkware we have to offer! Equipped with great knowledge of our customers and products, she's excited to help make your email and web experience even better!