Being responsible for Baudville's social media has many perks, but my favorite benefit is meeting professionals from around the country. Over the past few years, I've had the privilege of getting to know talented professionals who not only excel in their day jobs but have also made a name for themselves on social media. They share their knowledge and experience on blogs, Twitter, and more with the goal to help others excel in their careers, too.
Ben Eubanks, of the UpStart HR blog, is one of those individuals. Not only have Ben and I swapped tweets, emails, and phone calls, but we've been able to meet in person at HR conferences like the Society for Human Resource Management's Annual Conference in Atlanta last month. When Ben and I connected this summer, we started talking about having fun at work. It turns out Ben's workplace is a fun place to be! I asked him to share some of his office's favorite fun activities here on the blog and lucky for us he obliged!

Check out Ben's fun at work activities below and visit his blog for more tips and ideas you can use in your workplace!
Having fun at work
Paper airplanes... Ice cream... No, this isn't a 9-year old's wish list for the summer; it's just a sampling of the fun events that we put on every so often where I work. At Pinnacle, one of our core values is to create a safe and enjoyable work environment. We take the "enjoyable" part seriously by developing fun activities to help bring our teams closer together. Let's look at how that works with each event.
Paper airplane contest
Every year we hold a paper airplane competition to see who has what it takes to win one of the two prizes. We give awards for best design and farthest flight, so those of us without an engineering degree still have a chance to win it!
When we started the tradition, we weren't sure how our staff would take it. After all, at our local office we are made up of approximately 50% software engineers, 25% senior leadership, and 25% operations staff.
Within minutes of the first ever competition getting underway we had employees lining the hall where the judging took place. Our next edition is scheduled for next month, and we'll see if someone can topple our reigning champions.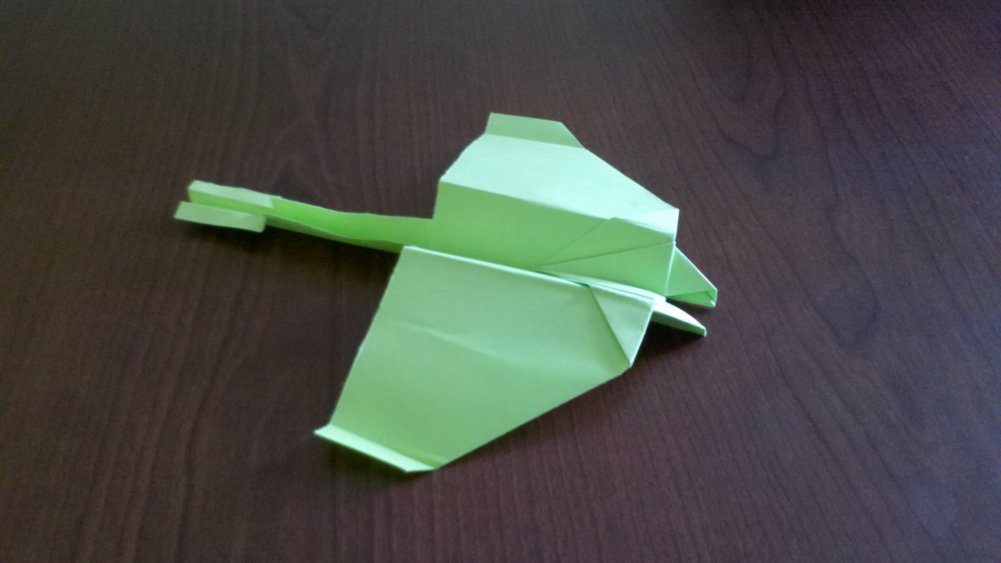 The winning design!
Ice cream day
If you take the time to look hard enough, there's a holiday for everything--including ice cream! Last year was the first time we celebrated National Ice Cream Day, but we did so with our usual flair. We had 4 kinds of ice cream, a dozen toppings, and half an hour of everyone watching me reload my bowl until I was practically oozing ice cream from my pores.
And of course we couldn't eat all the ice cream in one day, so for the following week the staff would meet for impromptu "ice cream chats" to talk over projects and deliverables over a nice, cold bowl of ice creamy goodness.
All hands on deck
One of my favorite traditions at Pinnacle surprisingly has nothing to do with ice cream or paper airplanes. Every quarter we have an All Hands Briefing where all employees are gathered in conference rooms around the country, listening to our senior leaders talk candidly about where we are, where we're going, and how we're going to get there. It's an exciting time to get the information directly from the people who make the "big decisions" on a daily basis without filters or distractions.
For new staff, it's a chance to see a piece of our history and culture that ties all of the little things we do back together. If they are managed well, these kinds of events can be even more powerful than the fun/frivolous kind and help to develop a strong bond among the staff and leadership.
What about you? Any fun, unique events that you do at your own company? If not, why not?

---------------------
Ben Eubanks wrote the book on corporate culture. He's an HR pro from Huntsville, AL where he spends his days working as an HR Generalist for Pinnacle Solutions, a small government contractor focusing on the aviation training industry. He spends his nights writing at upstartHR-an HR blog with a focus on humor, humility, and how-to. When he's not working or blogging, he's getting ready for the next HRevolution (an HR conference on steroids) and chasing his twin toddler girls around the yard.