Visit Us at SHRM 2014 to Learn More About Making Every Year a Milestone Year! The SHRM 2014 Annual Conference and Exposition is coming soon! Our booth staff have been limbering up their vocal chords, so they'll be ready to talk about career moments with all of the expo visitors!
We actually set up our booth in house Tuesday and did a trial run with the entire Baudville team! We got to see for ourselves the excitement that will be happening June 22-24 in Orlando, and we even got a sample taste of those delicious cupcakes everyone loves year after year!
Everyone was abuzz about their special moments, and I captured some comments about how we celebrate anniversaries here at the 'ville. Here's what some of my teammates shared:
"I always look forward to my anniversary! I will be celebrating four years in November: not a major milestone, but every year I still get treated like it is a big day! When I arrive at my desk in the morning, there is a card with a special note from my manager about my accomplishments in the previous year here at the 'Ville, a Certificate of Recognition, and a gift! My favorite, though, is getting lunch with my manager! We get to get out of the office away from the hustle and bustle of work and go out to eat to a place of my choice (awesome!), but, most importantly, we get to bond. It is always a day filled with great moments and I love that it is made out to be a big deal, no matter the year."
-Amanda, Sourcing Buyer
"EVERY year, I have received something from Baudville as a token of appreciation. Working in the service award industry, I know this is VERY unusual and I'm thankful for a company who shows appreciation each year! This year, for my 10 year, I was welcomed with cube full of balloons and a '10' hanging from the ceiling! There were bells attached to the opening, so whenever anyone walked by, they would ring them and say 'congratulations!' Breakfast was provided for the suite, I received beautiful flowers, was taken to lunch with a group of co-workers, and, last but not least, I received my presentation box where I could go online and select a gift. All of it made my day; it was like my birthday all over again! Amazing co-workers and a wonderful company to work for!"
- Lisa, Relationship Manager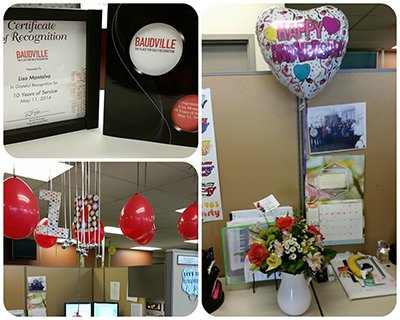 "On my 20th anniversary with Baudville, the entire management team showed up in matching green t-shirts that all had my name in big letters across the back along with an anniversary message. It was a complete surprise, and was one of the funnier moments in my career at this great company. Sometimes I will still see people wearing those t-shirts on casual days here at work, and that reminds me all over again what a great moment that was."
- Bruce, Director of CRM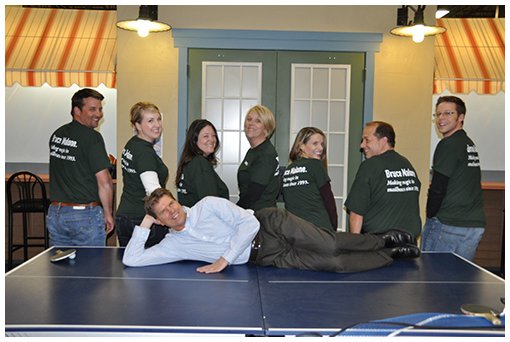 At Baudville, we know that every year is important, and waiting until a milestone anniversary to celebrate means wasted employee recognition opportunities galore! From year one to year done, if you take time to acknowledge their achievements and appreciate their loyalty over the past 365 days, you'll earn much more in return.
Are you going to the SHRM 2014 Annual Conference and Exposition? Stop by booth 1379 and chat with us about how our service awards can make every anniversary special for your employees.
You can also check out these other resources on celebrating anniversaries!

• Team Up eBook – Chapter Four: Milestones
• The Benefits of Recognizing Years of Service with Anniversary Lapel Pins
• Celebrate Years of Service with our newest Service Award!

--------------------------

Allison is a self-proclaimed Copywriting Diva and has the certificate to prove it! She's been writing for Baudville for five years and has worked in a variety of business settings for 20 years. Before becoming a professional writer 13 years ago, Allison worked as a department manager where she used Baudville products to motivate her team. She's what we call a true believer!