Spring is filled with appreciation events: Volunteer Appreciation Week, Administrative Professionals Week, Teacher Appreciation Week and National Nurses Week all happen in quick succession! It's also a time of year when we hear and share great appreciation event ideas from our customers. One of my favorite appreciation event stories recently came from Mount Prospect, Illinois.
As Volunteer Coordinator for the Mount Prospect Public Library, Janet Keena is responsible for an annual appreciation event for over 100 library volunteers. "We annually throw a special brunch in their honor to say thank you for their services," she explained. The entire event revolves around a theme, which is followed down to the finest detail.
For a past event, Janet was inspired by our Essential Piece theme. "We get your catalog at the library, and I really liked the Essential Piece," Janet said. "Everything just fell into place from there."
When Janet plans an event, she doesn't just decorate; she creates an ambience. To complement the Essential Piece theme, Janet created her own puzzle piece placemats and puzzle piece cookie bouquets. The room was decorated in red, orange, yellow, and purple – colors from the Essential Piece artwork. "I really want to make it special, and I was very pleased with how the room looked," she said.
As a gift to the volunteers, Janet placed an Essential Piece memo clip and note cube at each seat. Janet's volunteers appreciated the gifts because they could be put to use at home or in the office. "You don't give a gift just to give something. The gifts they got could be easily utilized at home," she said.
Each year, Janet's appreciation brunch is a fun and memorable event for the Mount Prospect Library volunteers. "It was one of my favorite brunches," she said of the Essential Piece event. The volunteers were big fans, too. "Oh, the volunteers loved it, loved everything. They loved how the room looked, the theme, and the gifts," said Janet.
Hosting an appreciation event is a great way to recognize the time and energy of volunteers – or any other group! - this spring. If you like Janet's Essential Piece idea, I list below the materials and supplies she used. Are you using a different theme for your appreciation event? Tell us about and send pictures or post them all on our Facebook page!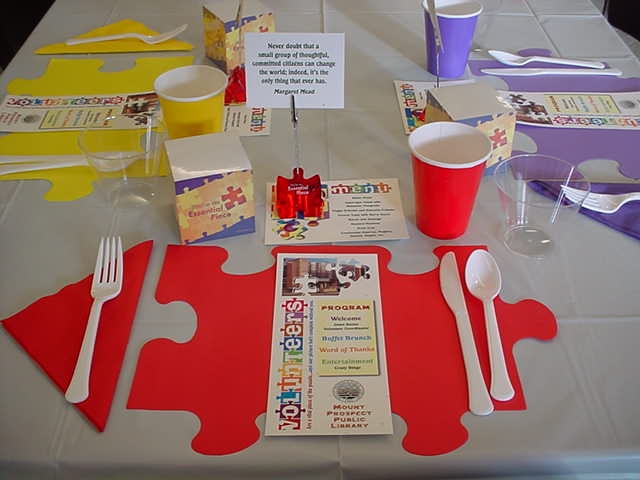 Janet's Essential Piece Event Supplies:
Red, orange, yellow and purple decorations
Homemade puzzle piece cookie bouquet centerpieces
Puzzle piece shaped placemats