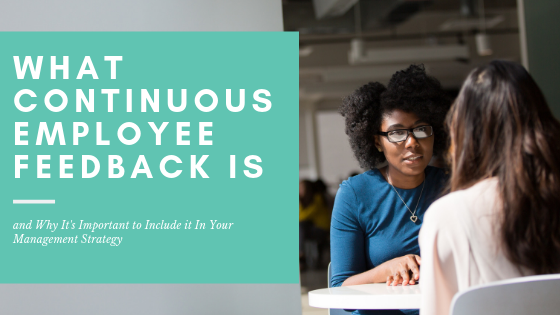 Maybe you're a company of 20 or maybe you're 2,000 and 20. Either way, keeping your employees engaged can sometimes feel like a high mountain to climb (like Everest sized). Each employee has unique skills, personalities, needs, and wants. How do you keep up with all of that? How do you keep connected and informed about how each employee is feeling?
Cue continuous employee feedback.
What is Continuous Employee Feedback?
It's fairly basic. Continuous employee feedback is feedback that is prompted regularly – just like it sounds.
Your company may have manager to employee yearly reviews, but how often are those conversations centered around their experience at your company?
Why Continuous Employee Feedback is Important
Checking in with your employees on a regular basis helps improve employee engagement and overall helps the bottom line.
"Organizations with engaged employees outperform those with low employee engagement by 202%." – Business 2 Community
Here are a few helpful side affects you will see if you implement continuous feedback:
Aligned Goals
Encourage managers to have quarterly, monthly or even weekly touch points with their teams to discuss performance goals. Constantly being on the same page allows you to tweak and adjust goals as needed.
Positive Company Culture
Reported in a Harvard Business Review, a feedback-rich culture brings safety and trust, balance, normalcy, and personal accountability into the workplace.
Feel Good Vibes All Around
People love to be heard. They want their voice to matter and it should. Asking how they're doing, what ideas/suggestions they may have is going to make them feel valued. What harm can come from an office full of engaged, happy, feeling-valued employees?
How to Gather and Use Continuous Employee Feedback
There are many ways you can prompt your continuous feedback.
Have face-to-face conversations. Set up a recurring meeting, so you always have dedicated time to sit down and speak with your team.
Send out a survey through a pulse survey platform like, Officevibe or Culture Amp.
Create a suggestion box that allows people to submit their feedback. You can even turn this into an incentive program, where implemented suggestions get rewarded!
The biggest key to continuous feedback is to actually take that feedback and build on it. Your next big idea or culture-changing movement could be in one of your team members' responses.
Want more ideas and inspiration? Follow our blog to stay up to date with the latest tips that make #workhappy!