Earlier this year, when we learned we made the West Michigan's 101 Best and Brightest Companies to Work For™ list (yet again!) we had a big hurrah—and there were promises of an ever bigger one (cookout style) once summer rolled around. Well, if you live in Michigan, you know that this summer was not exactly the best example of what summer is supposed to be like. Meaning: boo, no cookout! Good thing we got some more good news and another reason to celebrate—during a full week of "abundant sunshine" in the forecast!
If you are regular followers of our blog, then you know we have been working on our workplace wellness program for the past several years. This year, we felt we had enough initiatives and results under our belts to apply for the Best and Brightest in Wellness™ designation—and we were right!
Today, we celebrated being a Best and Brightest in Wellness company, with our CEO and CFO flipping burgers, chicken, and vegetarian fare. We also got active with some fun & games (and prizes)! It was a beautiful day made even better by our success with our wellness program.
If you're want to improve health & wellness in your organization, we can help! Here are some resources to help you get started:
• Three Free Downloads Will Help You Start a Corporate Wellness Challenge!
• Workplace Wellness: Take a Holistic Approach for a Whole Lotta Impact!
• Workplace Wellness: Creating a Framework for Success.
P.S. I know "wellest" is not a word, but it sure was fun to break the rules and use it anyway!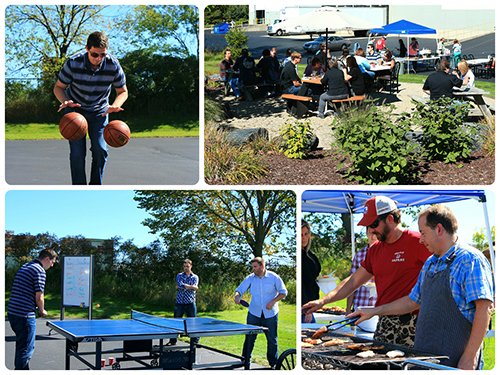 --------------------------
Allison is currently living out the elaborate fantasy she described to her now-former staff and colleagues in early 2001. With a hearty dose of courage and absolutely no plan of action, she abruptly left her middle-management job to become a writer—and today she is doing just that in her role as Baudville's Senior Content Writer. She's here to tell you everything she's learned in her 20-years+ professional life, plus a lot more. She's wordy like that!