Does this title sound familiar? Gary Chapman, the author of "The Five Love Languages," recently partnered with Dr. Paul White to create a workplace application of his popular relationship book. The new book, just released in August, dives into the value and benefit of making employees, volunteers, and members of your organization feel appreciated. (Disclosure: I was given an advanced copy of the book to review.)
Early on, the authors make a solid case for appreciation by outlining the return on investment organizations receive from appreciation, such as job satisfaction, long term commitment, and retention. They also point out that employees most commonly leave an organization because they don't feel valued, not because of money. The first section of the book is a great resource for anyone working to convince management of the value of making employees feel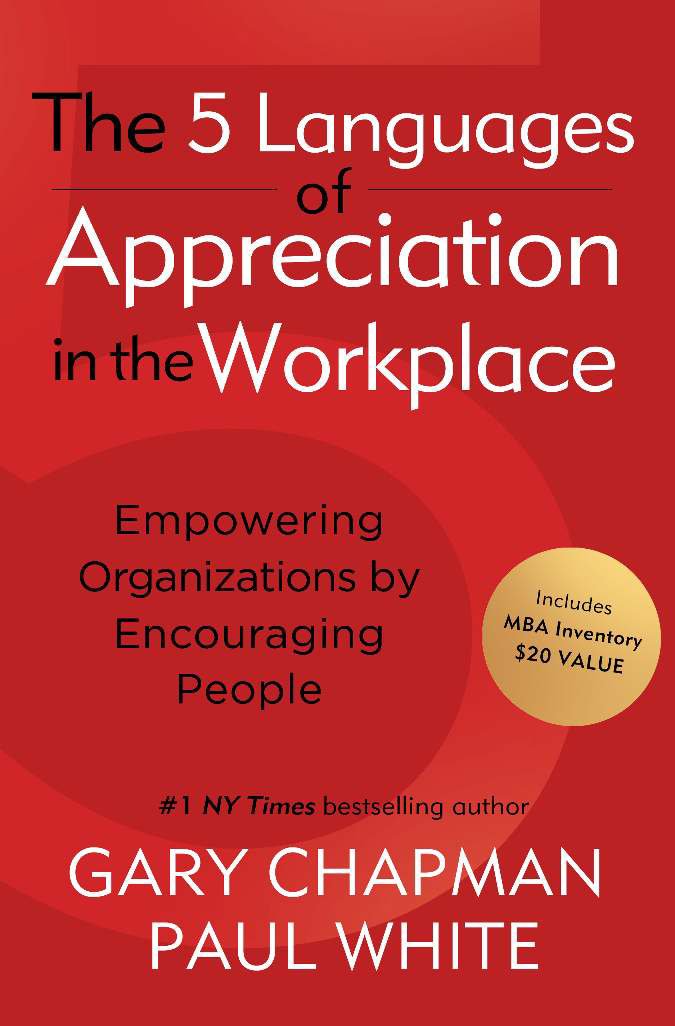 appreciated.
The book drives home two simple truths: one, appreciation makes people enjoy their jobs and perform better; and two, you need to express appreciation in a way that is meaningful to him or her to make an individual feel truly appreciated. The book expands on these themes by discussing the five languages of appreciation in the workplace and sharing examples. The authors even created an assessment, Motivating by Appreciation, that teams can complete to discover their language of appreciation.
"The Five Languages of Appreciation in the Workplace" is a great resource for managers, teams, and companies that are new to the practice of appreciation and recognition. This book will provide the data to make the case for appreciation and helpful tips for understanding your team's appreciation preferences.
However, the authors consider only a limited view of "recognition" in their chapter on the difference between recognition and appreciation. They define recognition as public recognition for performance-based achievements and limit it to individual-based, top-down praise with significant financial cost. If you look at the three tiers of recognition, the authors seem to only address formal recognition and forget about informal and day-to-day recognition.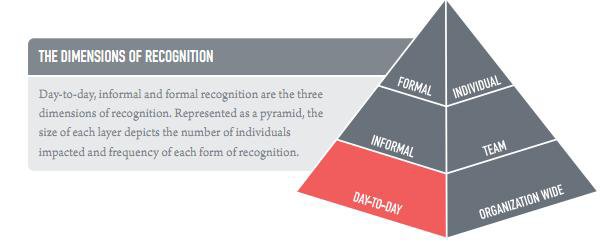 A recognition strategy should include formal, informal, and day-to-day recognition.
Informal recognition and day-to-day recognition are valuable strategies that companies should incorporate into their total reward plans as they include the languages of appreciation discussed by the authors. These strategies can include peer-to-peer recognition which gives everyone in the organization the ability to recognize, includes low cost forms of recognition, such as handwritten notes and small gifts, and encourages celebrating together. You can learn more about day-to-day recognition in this free employee recognition white paper.
Recognition is intricately tied to appreciation. Both express gratitude, thanks, and admiration for an individual's contribution to the organization, big or small. It's a mistake to think that they are mutually exclusive. Your recognition must have appreciation in it, and your appreciation should be connected to behaviors for it to be effective.
I recommend that you get a copy of "The Five Languages of Appreciation in the Workplace" for your organization. Read it as a team and access the resources they have available on their site.
Then hop back over to Baudville.com and our Recognition Resource Center where our Tell Us About You form is perfect for keeping track of employee preferences, our Print and Posts are a fun way to make someone's day, and our new products keep you stocked with small gifts and tools to keep appreciation fresh.
--------------------
Cori is Baudville's in-house Recognitionista (she's officially a Certified Recognition Professional, too) and a member of the Millennial generation. Get her employee recognition tips and special discounts by liking Baudville on Facebook.