If you only celebrate one employee recognition holiday this year, hands down it should be Employee Appreciation Day! It occurs yearly on the first Friday in March, and this year it's March 7th.

Why is Employee Appreciation Day so important? Well, if you're in business, there's a pretty good chance that you have employees. If you have employees, they are likely keeping your business running. If your business is running well, then you have reason to celebrate. And it's pretty much a no-brainer that what you should celebrate is the people who have made it all happen. Right? Right!

It will be here before you know it, so it's time to start planning today! A successful Employee Appreciation Day has these three elements:

Activities. These don't have to be all-day activities; after all, you still need to keep that business running! But, if you plan for a few throughout the day, you'll make your Employee Appreciation Day fun and memorable without being too disruptive to your regular flow. Need ideas? Check out our free Fun at Work eBook for inspiration!

Edibles. We all need to eat, so why not plan a catered lunch for your team? It can be as simple as a boxed lunch from a favorite local deli or more elaborate, like a full buffet with all the fixins. Or, if you want to really knock their socks off, hire a food truck to park in your lot and let your employees get their lunch to order! At Baudville, when "What the Truck" pulls up to our loading dock, we know we're in for an extra-special treat.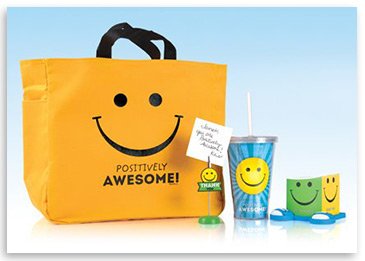 Appreciation. The most important part of Employee Appreciation Day is right in the title. Take this opportunity to give a heartfelt thanks to your team, with a meaningful gift and a sincere note. Choose our new Positively Awesome Theme, then fill a Tote Bag with a Value Tumbler and Goofy Guy Note Cube—all lasting gifts they'll use every day. Don't forget to write a personal note to each individual that expresses your appreciation for all they do throughout the year.

That's all you need to pull off a "Wow, that was awesome!" Employee Appreciation Day. Sound like a plan, but need help planning? We have a whole team of super-friendly (plus helpful and knowledgeable) recognition specialists who are just a call or chat away—just holler!


--------------------------

Allison is a self-proclaimed Copywriting Diva and has the certificate to prove it! She's been writing for Baudville for five years and has worked in a variety of business settings for 20 years. Before becoming a professional writer 13 years ago, Allison worked as a department manager where she used Baudville products to motivate her team. She's what we call a true believer!