While working as a department supervisor, I had a team leader reporting to me who had a peculiar ritual: at the start of each day and again at 3:00 in the afternoon she and her team would stand up and sing together "Deep in the Heart of Texas," complete with hand claps during the refrains. This was odd to me, for one because we were located in Michigan, and two because, well, I just didn't get it. I thought it was annoying, disruptive, and total a waste of time. And, in the end, I actually told her she had to stop. This didn't go over well, and I became even less popular than I already was.

Now that I've had many years to mature and reflect on my period of tyranny, I've come to see it all more clearly. What she knew that I didn't at the time was that these breaks in the work day were critical to maintaining high morale, keeping her team energized, and building unity among everyone. And to think I destroyed all of that with one single no. :sigh:

Here at Baudville, I've participated in many different diversions during the workday that may seem absurd, or appear to be nothing more than straight-up goofing off; but I can assure you that the value they bring will buy back the time spent ten-fold.

For example, the creative team works in a deadline-driven environment that experiences drastic ebbs and flows in workload. Some days we're shouting frantic updates over the cube walls and crashing in to one another running to and from the printer; others we are struggling to concentrate under the absence of any pressure.

When the heat is on, taking a brief intermission to play a game of ping pong relaxes the nerves, gets the blood pumping, and refuels an exhausted mind. All of us have found that when we work straight through without any breaks, we've completely lost steam by late afternoon – yet, somehow, we need to keep going. In contrast, it's these short, non-working moments that give us the mental and emotional nourishment to push on.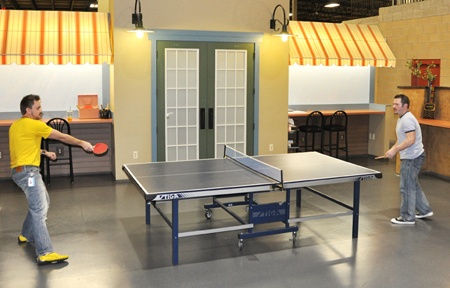 When the heat is not on, pausing for a 10-minute round of Bananagrams can turn lethargy into levity – just like that! Creative activities like this get our brains churning, inspire conversations, and sometimes create hilarious moments that end up forming powerful bonds.
No matter what type of environment you're in – faced-paced, slow & steady, or a little of both – your team will benefit from some spontaneous fun. Visit our brand new, totally revamped Recognition Resource Center to get all kinds of ideas. Read articles, download free print & posts, and even watch funny videos.
And, for goodness' sake, take some advice from a former Scrooge: if you've ever looked on a form of workplace merry-making with contempt or disapproval, I encourage you to lighten up and take a fresh perspective – and maybe even join in. You'll foster an atmosphere where people flourish and look forward to coming to work. Because being light-hearted really is serious business!
What kinds of activities do you do during the workday to energize and rejuvenate yourself and your team? Share your ideas with us!

--------------------------

Allison is a self-proclaimed Copywriting Diva and has the certificate to prove it! She's been writing for Baudville for three years and has worked in a variety of business settings for more than 18 years. Before becoming a professional writer 11 years ago, Allison worked as a department manager where she used Baudville products to motivate her team. She's what we call a true believer!