Those who know me will not be surprised at all by this story. Crazy things happen to me all the time. Last week I was definitely ripe for some sort of debacle, as I'd been sailing fairly calm seas since I single-handedly demolished our garage door back in March.

It started during a toasty-warm lunch hour, when I headed out to pay my mortgage, with my check and payment stubs on my passenger seat filled out and ready to go. About halfway to the bank, I opened my sunroof to soak up some rays. And, then, when it got a little too hot, I lowered my window. This immediately created a tornado effect and all of the papers on my seat began to dance and flutter. I quickly sprang to close the window, but not before the check I had neatly endorsed was whisked through the open space. All I could do was watch through the rearview mirror as it made its hasty escape.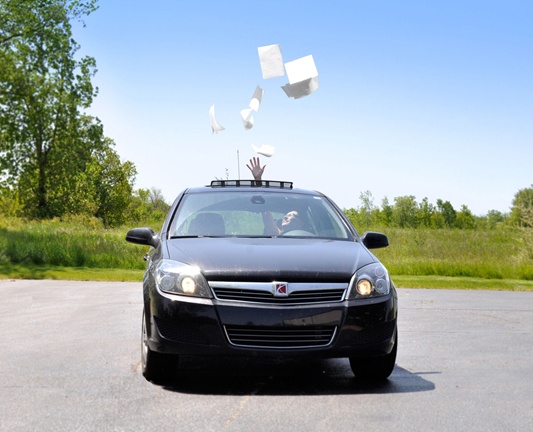 My first hope was that it had been run over hundreds of times after landing on the high-traffic road. Then I decided it didn't matter, even if it wasn't, because no one would likely be able to cash it anyway.

Then it dawned on me: all of my personal and banking details were on that check. Even though the check itself was probably useless, the information on it wasn't. ::sigh::

I called my bank and we talked through some options, including the possibility of closing my account and starting over. ::::double sigh::::

When Friday evening rolled around, I had the weekend on my mind, and not my forthcoming identity-protection worries. As I sorted through our household mail, a hand-addressed letter caught my attention (after all, we don't get much of that anymore). I ripped it open, and there it was: my check—sans a single tire tread or evidence of any distress. It turns out that my check had quite an adventure, bypassing semis and SUVs and landing gently in the parking lot of a local logistics business.

The young man who found it chose not to ignore it, or just throw it away (so that I would never have the peace of mind of knowing it was safely discarded), or actually use it for ill-gotten gains. Instead, he and one of his coworkers took the time to put it in an envelope and send it back to me.

It probably didn't take all that much time; but consider this: we speed to work in the passing lane, we try to pick the fastest-looking grocery line, we sometimes threaten our safety and others' in the pursuit of multi-tasking. Everything in our lives is quick, quick, quick. Which makes it all the more overwhelming to me that a stranger would slow down and perform an act of kindness like this.

And that made me slow down, too, and think about opportunities I might have to do something kind for one of my fellow humans. Because, even though we sometimes forget, we really are all in this together, aren't we?

What will you do today, big or small, to help out a friend, coworker, or stranger? Get inspired with our Random Acts of Kindness eBook. Click here to download it!

We love a good story. Tell us about an act of kindness that you've given or received!
--------------------------

Allison is a self-proclaimed Copywriting Diva and has the certificate to prove it! She's been writing for Baudville for three-plus years and has worked in a variety of business settings for more than 18 years. Before becoming a professional writer 11 years ago, Allison worked as a department manager where she used Baudville products to motivate her team. She's what we call a true believer!