At 11:30 on the Sunday night before last, I stepped off a plane after a whirlwind weekend in New York City. Then, just four days later, my parents pulled in my driveway and I hopped in their car for a road trip to Iowa. Talk about two ends of the spectrum: sky-high buildings, swarming streets, and foreign accents were replaced with top hat-high corn, long stretches of desolation, and mid-western drawls. Now I'm back at work trying to make sense of it all.
When I returned from New York, I felt energized: my head was stirring with thoughts of artistic masterpieces, exotic food, breathtaking architecture, and cultural diversity. Everything was grandiose and intense. And different; exciting. I've been to the City several times and I never tire of the experience. I wasn't really looking forward to my trip to Iowa because I knew it would wither in comparison.
And, it did. Kind of. And kind of not. I spent much of the eight-hour ride there staring out the window watching the changing landscape: the lavish greens and blues of Michigan turning to dull grays and browns of urban Indiana and Illinois, then to a verdant spectrum ranging from pale grasslands, to variegated corn rows, to rich, tightly sown fields of soybeans. An occasional cow or two. And, did I mention corn? So much corn. My four-day weekend with family was, at times, racing with activity and, at others, slowed by long spans of quiet contemplation. When I arrived back in Michigan, I felt contented.
What did I learn from these two contrasting adventures? For one, that there is no big without small and no small without big. And, that the same can be said of your employees' experiences throughout the year. Your year-end parties, award ceremonies, and special celebrations are the New York City of recognition. Fanfare. Thrills. Oohs and ahhs. You need these occasions to break up the miles of endless highway that are everyday work life.
But, it's often during everyday work life—those seemingly mundane times—that all the important stuff gets done. You don't want to discount all that and only focus on the bright, flashy, skyscraper moments. The day-to-day appreciation you give your employees is the butterfly that lands on your fingertip, the smell of fresh-cut hay, the sunrise over a silo, the taste of just-picked corn. It's simple, yet meaningful. And, if done consistently and thoughtfully, it will be savored just as much as any big-time award or festivity.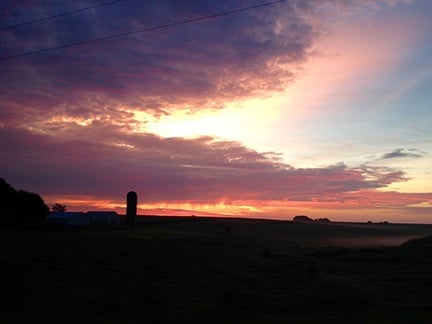 In my travels, I've discovered that the joys all come from balance. For your employee recognition program, that's true too. Find the right blend of little gestures and large-scale productions and you'll fill your year with a panorama of memorable moments. Need ideas on how to do that? We're here to help. Just call us a 800.728.0889 or chat with us on baudville.com. You can also visit our Recognition Resource Center for free ideas, downloads, and more!