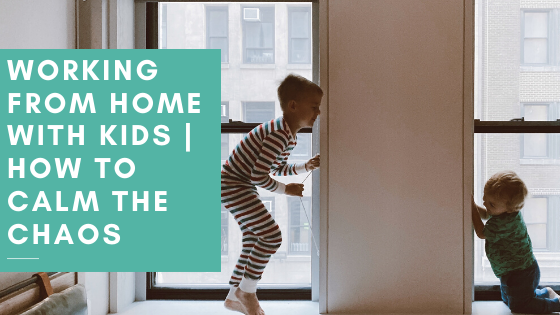 Balancing Kids While Working From Home
Let's be honest, being a parent means constant multi-tasking is already your default mode. Working from home may have made that multi-tasking just a little bit harder. So with the help of a great, strong pot (because we know you need the whole pot) of coffee and these tips and activities to entertain your kiddos, you'll be set up for #wfh success!
Your Workspace is YOUR Space
First things first. Set up a no-kiddo zone (aka your dedicated workspace). If you already have an office, you're halfway there! Just remember to re-establish boundaries and expectations with your kids. We recommend creating a sign that lays out some base rules.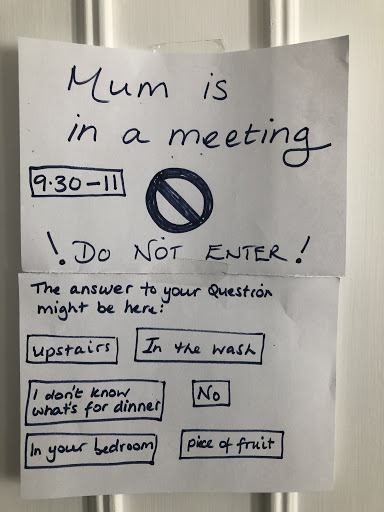 Creating a schedule that you share will help both you and your kids stay on track and understand expectations!
We know they still may interrupt your workflow asking for another cookie, but these guidelines should help the big kids to think twice before they knock on the door or barge in.
Set Your Kids Up for Success Too
This adjustment isn't only hard on you, it's hard on your kids. Their routines just got flipped upside down, turned around, and did the hokey pokey. It may be a little harder for them to deal with. So, be patient with your little ones. You're a great parent, but all great parents need to be reminded that patience is a virtue. Schedule in breaks in your workday to focus on your kids. 15 minutes of reading together or a quick walk around the neighborhood will do wonders. You'll both appreciate that time together (with no distractions!).

If your babies are fur babies, then this idea is most definitely a good idea for them too!
Need some ideas for 15-minute activities? Check out this article on 12 games that are actually fun to play with your kids or read some of their favorite stories! Most local libraries have some kind of digital catalog - here in Grand Rapids, GRPL has their online catalog here or you can download their app Libby! Not only are there digital books, but audio stories, or read-along options! Don't have a library card? You can sign up for a temporary e-card here!
Routine Please
At first this extended break from their daily life of school or daycare may have felt like a vacation. I CAN DO WHATEVER I WANT!
But once reality kicks in, watching TV all day starts to get boring. Create a weekly schedule for them to follow each day with spurts of learning and spurts of fun.

Keep this important fact in mind: transition turmoil is a Real Thing® and ssh... your kids aren't the only ones that have it! A routine makes predicting what humans (both small and tall) can expect. Transitions that happen regularly can be practiced and easily managed - but the moment we throw a wrench into the normal, things quickly unravel. It can be easy for adults to think that they don't need/have a routine, but they are simply just so familiar with their routine that we forget it's there supporting us!

Check out this helpful how-to on transitioning your kids (and yourself!) between places and activities.
Here are some of our favorite quarantine at-home schedules: one, two, three!
Don't Forget the Fun
Here are some kid-approved fun ideas that you can sprinkle into their week.

You can join in the fun too! Here are a few (more grown up) things you can enjoy with your kids!
Find your inner peace with our relaxing coloring page. Want to double up on the zen? Focus on your breathing as you color! Count to 1-2-3-4 as you inhale and 1-2-3-4 as you exhale. By the end of your page, you'll be completely chill!
Sometimes, we need a little giggle juice. But other times, our kids want to join us. The solution? Sip on yummy mocktails together! And no judgement from us if you need to add a splash of mom-juice to the concoction!
Spread the love in the community too! Create little gifts of appreciation like these lip balm cards for your local healthcare professionals.
So there you have it. It's not a fool-proof plan (kids are smart!) but it might be a way to reclaim your sanity and provide your family with some entertainment. When the going gets tough, take some deep breaths and remind yourself that this time is temporary, and that you'll (fingers crossed) never have this kind of at-home opportunity again.

In the meantime, we salute all of the at-home parents who have become full-time caretakers, teachers, therapists, coaches, and cooks! Way to go!!