A little over a month ago, Baudville made West Michigan's 101 Best and Brightest Companies in Wellness List – what an honor! Baudville' s HR manager and I travelled to the award ceremony to receive our award and gather some great tips and best wellness practices from other companies. I have always considered myself a relatively healthy person so I never expected to leave feeling incredibly inspired to make a change in my lifestyle.
There was a keynote speaker at the ceremony named Drew Canole, who is the creator of Fitlife TV. He was truly inspiring and really said some things that hit home. He asked everyone in the room to raise their hands if they were truly happy with their body and would change nothing about it. Not a single person raised their hand. He then asked how many people would feel comfortable enough to make a video documenting why you aren't happy with your body and what you are going to do to change it, and here is the real kicker – post the video on Facebook for the world to see. Again, everyone in the room was motionless and not a single hand was raised. The idea of doing something like that gave me anxiety and I couldn't believe this guy would propose such a thing!
However, over the course of the next week, I kept finding myself circling back to that moment and what Drew said. For the past two years or so, I have been uncomfortable with my body. I weigh 10-15lbs more than I ever wanted to weigh and find myself eating whatever I want and working out less and less. As you can imagine, that combination simply wasn't adding up to anything that even resembled weight loss. So, I did the unthinkable: I made a video telling the world that I was unhappy with my body and posted it on Facebook. The amount of encouragement I received was incredible. My video got close to 100 Facebook likes and my friends and family were showering me with positive thoughts and encouragement. There was no turning back now, with 100 people now monitoring my success, the option for me to fail or revert back to old habits simply isn't there.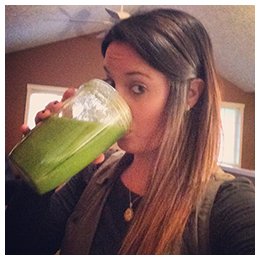 I began with basic diet rules: more fruits and veggies, high protein, low carbs, and low sugar. I avoided office temptations like candy and chips and started drinking more water. I upped my workouts from two to three a week to four a week. The results were almost immediate: I lost three pounds the first week of my diet!
I was feeling really confident and decided to jump things up a notch and do a three-day cleanse with a local juice bar called Sip. They provided me with a breakfast and lunch smoothie and a cold soup for dinner. I had never done a cleanse before so I had never experienced that kind of hunger. However, my mentality was that anyone can do something for three days, so I knew I could make it through. I kept myself busy and threw myself into a project whenever I started fantasizing about pizza and bagels. During the cleanse I felt great, I had a ton of energy, and my skin was clear. I was hungry, but the benefits were worth it. I felt as though it gave me a clean slate. I also found that, by the end, I was no longer craving pizza and bagels and I didn't want eating junk food to undo all of the hard work I had just put in.
It has been almost a month since I decided to make a lifestyle change and I feel amazing. I have lost five pounds, my pants are becoming looser and looser, and I am starting to see my abs again. I will admit that I have had a few bad days. But, I realize that I have to allow myself a cheat meal every now and then. This article I read recently from Fast Company has great tips on how to stick to new habits; I would recommend that you read it if you are thinking about a lifestyle change! It made me realize that cheat meals don't have to turn into cheat days or cheat weekends, resulting in you falling off the wagon all together.
I have seen some great results so far and have no intention of stopping anytime soon! The most important thing I have learned during my journey is that while I have 100 people holding me accountable, only I can be responsible for my success. Beginning a new habit is as easy as choosing an apple over a candy bar or filling your dinner plate with one more serving of veggies – try it!
--------------------------
Krista is the 'ville's Web Marketing Coordinator. She came to us in 2012 as part of our stellar Sales team.Using her experience with Baudville customers, she helps create an online experience we're sure you will enjoy! Being the chatterbox she is, she truly misses talking with all of you so don't be shy and drop her a line!