Just like with mid-year reviews, year-end reviews can be nerve-wracking for both manager and employee. Your review can sometimes make or break performance—either making them feel bad and lowering their productivity or inspiring them to do better and reach for the sky.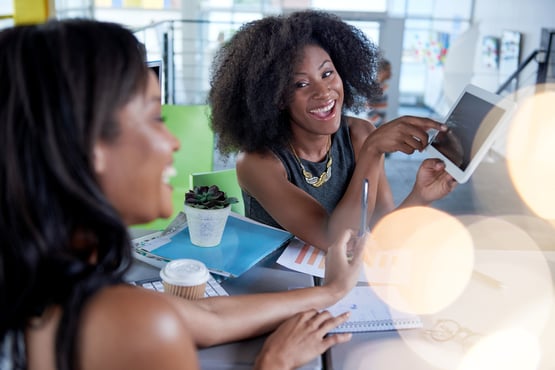 via Freestock
This is an important responsibility for managers, but don't worry—it's not as scary as you think! Here are a few tips on the kind of feedback you should be giving, the kind of feedback you should be getting, and what you should do next.
Feedback to Give
Be sure your review is always in the form of constructive criticism, and always start with an appreciation message. This is absolutely crucial in making your employee feel valued and respected, no matter what you say next.
These are just a few topic suggestions based on our own mid-year and year-end reviews:
Communication Skills. Do they openly and honestly communicate with you (their manager) and other employees—whether about work projects, time off, busy schedule, feedback, etc.
Above-and Beyond Achievements. What have they done this year that's gone above and beyond what was asked of them? Be sure to make a big deal about these accomplishments!
Teamwork and Collaboration. Do they work well within a team? Do they have good interpersonal skills? Do they collaborate well on group projects and, when necessary, sacrifice their own opinions and wishes for the sake of the team and the company?
Critical Thinking and Problem Solving. Are they able to come to solutions and conclusions on their own, or are they always reaching out to you for help? Sometimes all employees need is a sounding board, but beware of helping your employees so much that they can't think for themselves.
Innovation and Creativity. Do they present insightful perspectives into problem areas and present creative solutions you may not have had?
Productivity and Time Management. Do they manage their time well? Are they on time in the mornings? Has their speed of production increased or decreased over time? Do they constantly feel stressed or are they managing their deadlines well to reduce unnecessary pressure?
Growth Opportunities. Everyone, regardless of talent, has room to grow. It's important to talk about how their unique skillset can continue to benefit your company, whether they've been with you for one year or ten. Also, don't forget to talk through their own professional goals and how you can help them further their career.
Feedback to Get
Don't underestimate the power of feedback from your employees! Here are a few sample questions to ask your employees to get good feedback on yourself as a manger and your company as a whole:
What keeps you motivated in your job?
What has your team experience been like this year?
What has been your proudest moment this year?
Where do you feel you have some growing to do?
Do you have anywhere you feel stuck? How can I help you in this area and overall?
Next Steps
Don't let your year-end reviews go to waste! They're a valuable resource in growing as a manager and organization.
Based on your reviews of your employees, set specific goals for next year. Make sure they stretch the employee, but that they're doable.
Use their feedback for company-wide initiatives and growth. Then, create incentives, reward programs, and recognition programs that go along with these goals. Frequent praise and regular evaluation go a long way in creating a better relationship with your direct reports.
Offer additional training and growth opportunities, if needed.
Is your organization having a year-end award ceremony? Use our guide to make sure you communicate what they're being recognized for, and why. Trust us, it'll go a long way.