If you're reading this post, then most likely you're an advocate of employee recognition. If you're a recognition advocate, then I'm sure at some point you've felt like a lone wolf. Even though the link between genuine expressions of appreciation and improved performance is intuitive to us, it seems like "fluff" to many managers, supervisors and informal leaders.
Close your eyes for a moment and imagine you are in location surrounded by like-minded people—colleagues in the science, application and advancement of employee recognition practices.
Sound too good to be true? It's not a dream! Last week I was privileged to attend the 13th Annual Conference of Recognition Professionals International (RPI) in Henderson, Nevada. The conference delivered one-of-a-kind educational opportunities to gain tools, tips and techniques that the 200 attendees can apply immediately in the workplace.
Baudville, Inc. was a proud sponsor. In fact, our sister company (IDville) donated the custom lanyards, badge holders and badge card stock!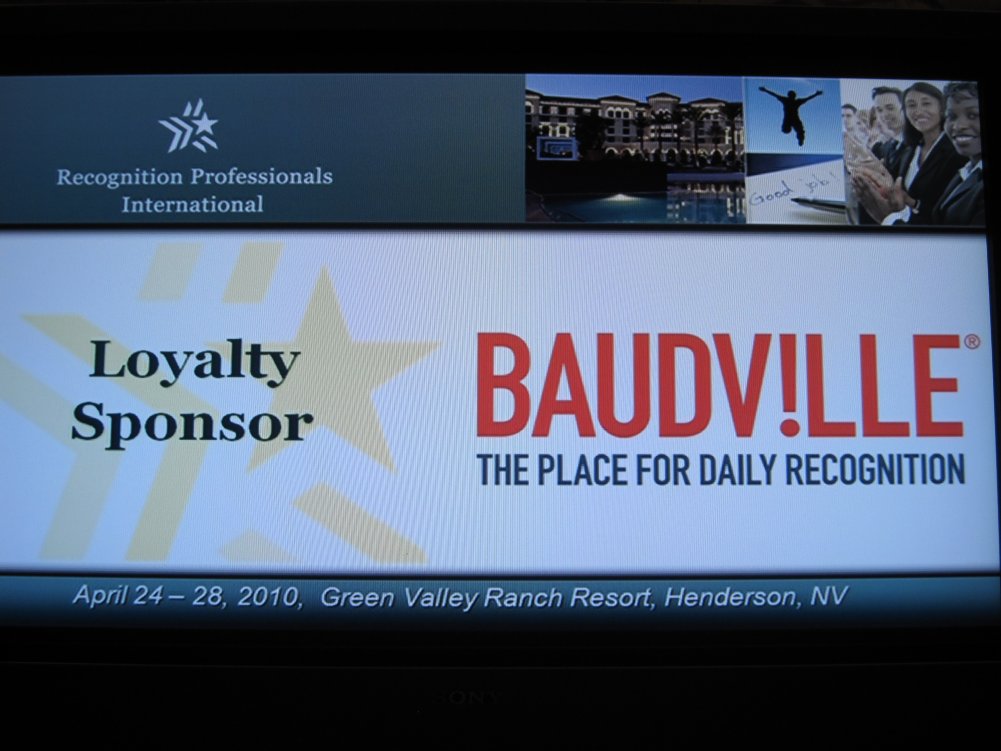 There were numerous networking opportunities allowing attendees to meet, exchange ideas and expand their reach globally with Recognition Professionals from all over the world. I made new friends from both the Netherlands and India!
Conferences like RPI's provide a vital forum on effective employee recognition strategies and tactics to help boost employee morale and productivity. Current research proves that employee recognition and satisfaction is important for all organizations, especially during these challenging times.
I was able to hear from leading experts in the field of employee recognition, and of particular interest this year was "proving the value of recognition." As business leaders, we're all familiar with the concept of return-on-investment (ROI). This respected accounting measure, which has its roots in capital expense evaluation, is a critical success factor to C-level executives.
But… nearly 85% of today's business investments are not capital in nature! Things such as training, technology solutions, organizational development, change initiatives, marketing, and—you guessed it—employee recognition and rewards fall under operating expense categories.
What's an HR, training, or leadership professional to do? Enroll yourself to become a Certified Recognition Professional (CRP)! The CRP designation will give you expertise in the "Seven Best Practice Standards" for employee recognition programs developed by RPI:
1. Recognition Strategy
2. Management Responsibility
3. Recognition Program Measurement
4. Communication Plan
5. Recognition Training
6. Recognition Events and Celebrations
7. Program Change and Flexibility
This conference placed special emphasis on "Recognition Program Measurement" including practical examples and techniques for developing evaluation plans for your recognition initiatives, collecting the data and isolating it from other factors, converting that data to a monetary value, and then calculating the ROI based on the costs of your program.
Another great part of the conference is seeing real-world employee recognition practitioners from businesses just like yours receive accolades.
RPI announced that the employee recognition programs from four organizations, Scotiabank, Faxton-St. Luke's Healthcare, TD Canada Trust, and TELUS Communications were honored with RPI's 2010 Best Practice Standards® Awards.
Headquartered in St. Paul, Minn., Recognition Professionals International is an international non-profit association of employers. It exists to study, develop and promote systems that enhance employee engagement and performance through employee recognition.
And yes, I did manage to have a little fun too!
--------------------
Cori is Baudville's in-house Recognitionista (she's officially a Certified Recognition Professional, too) and a member of the Millennial generation. Get her employee recognition tips and special discounts by liking Baudville on Facebook.