This week we celebrated our Digital Marketing Manager, Kim's, birthday! I am reminded every time we celebrate a birthday here at the 'ville of how important and EASY it is to make our co-workers feel the love on their special day. Here are your quick ABCs for how to make your next employee's or co-worker's birthday sing! We've got a list A-Z to help you make workplace birthdays a blast for everyone: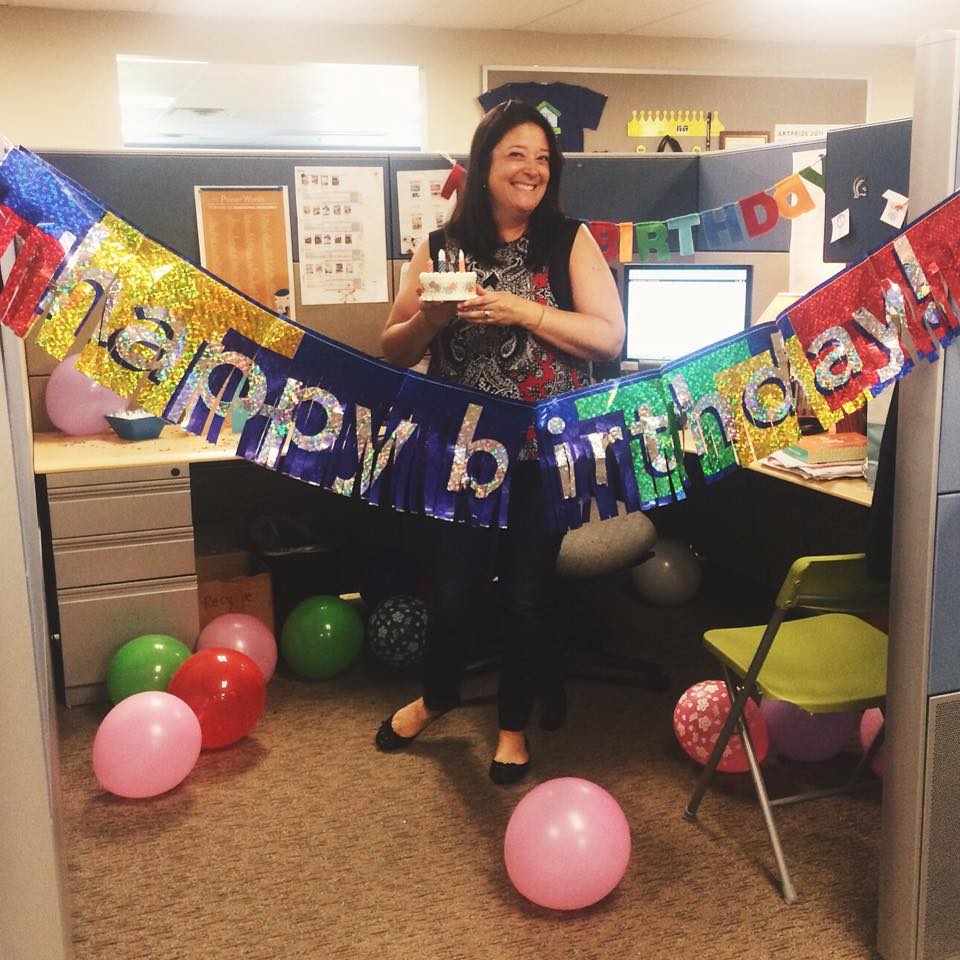 A – Announce everyone's special day. At Baudville we have a sheet by the time clock that lists out the month's birthdays.
B – Balloons! Balloons are the world's most affordable and fun party decoration. They're a birthday must.
C – Cards. Whether from the whole team, or individual cards from special co-workers, greeting cards chosen specifically for the birthday star are always appreciated.
D – Decorate! Decorate your co-worker's workspace for their special day. Invest in a few birthday banners, some balloons, and confetti and you're all set!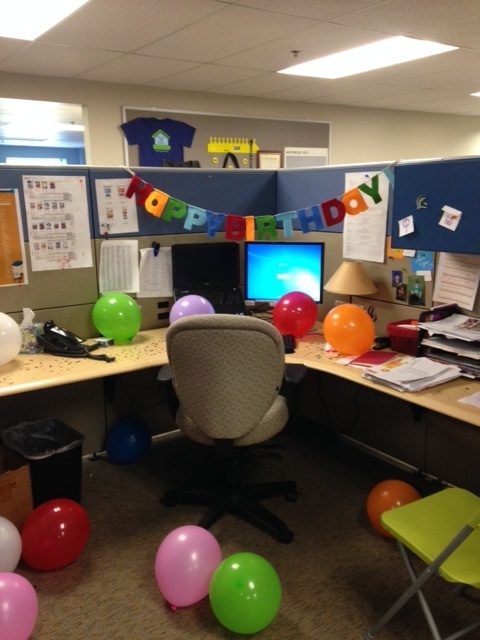 E – Everyone feels the love! With birthdays as a reason to celebrate, every person on your team will have one chance in the spotlight.
F – Food. We like to mix it up and do breakfast potlucks, lunch, or even dessert spreads to honor our birthday stars! Think about what they like and make it a day all about them!
G – Goodwill Gifts. This is something that was started by our photographer, Tisha. For each employee's birthday, Tisha goes to Goodwill and finds a special little treasure that reminds her of the birthday star. She got Kim this Cabbage Patch bank that has now become our travelling whiner trophy!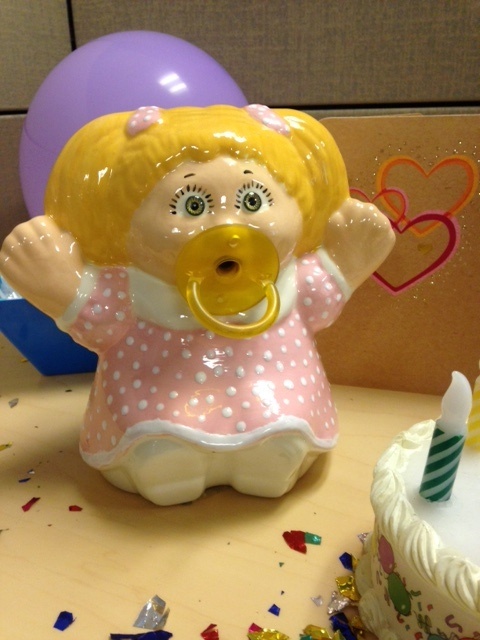 H – Happy Hour. Birthday happy hours suck – said no one ever. So cheers to the birthday star!
I – Ice Cream Social. Host one in honor of your department's birthdays every month.
J – Jump for joy! Birthday celebrations immediately lighten the mood and bring the fun to your workplace.
K – Know your audience. Not everyone loves to be serenaded publicly with the birthday song. Not everyone loves to wear a giant button that says, "It's MY Birthday!" Don't force it. However, everyone loves to feel loved. Celebrate each employee's birthday in a way that will make them happy.
L – Lunch. Take the birthday star out to lunch and pick up the tab.
M – Milestone birthday? Step up your game! Use themed decorations and party favors.
N – Name that tune, and other fun party games. Take a few minutes to gather the crew and play a fun game as a great team building experience.
O – Organize the process. As you celebrate birthdays throughout the work place, divvy out tasks like balloon blowing, office decorating, treat duty, etc. to the team. You don't have to go at this alone!
P – Prepare! Have a drawer stocked with balloons, birthday banners, confetti, birthday cards, and more so that when the day comes, you're cool, calm, and collected.
Q – Queue the music! Do you listen to a radio station in the office? Let the birthday star choose the tunes for the day!
R – Recognition Survival Kits. These are a must-have for your birthday supplies drawer.
S – Smile and sing! Gather the team and sing happy birthday, unless it's not your birthday star's thing… then just smile and say "Happy Birthday!!"
T – Treats. I always thought it was baloney that the birthday star had to bring their own treat. So at the 'ville, we bring the treats for each other. Kim loves to bake, so she will typically take requests and bring in the birthday star's treat of choice on their special day! That's how it should be done!
U – Use your skills. We all have them. Some people are organizers and planners, some are bakers, some are decorators, some are creative… look around at your teammates and enlist them in helping celebrate birthdays in their area of expertise.
V – Vary your celebration style. You'll quickly tire of celebrating if it's the same show every week for a different person. Switch it up to keep it fun! Great theme ideas are: luau, fiesta, sweet treats, breakfast fun, sports, tea time, etc.
W – Write a personal note. Don't just sign the card, write a personal note that will make the birthday star feel special.
X – Xcitement! Get ready for it, it's a-comin'!
Y – You'll feel good making other people feel good. Guaranteed.
Z – Zany hats make for a fun photo op with the team.
How do you celebrate birthdays? Share in the comments below!
---
As a team member since 2005, Falon has worn just about every hat the 'ville has to offer. She's seen both sides of working life — as an employee and as a manager — so if it sounds like she knows what she's talking about, we're pretty sure that's why. When she's not juggling between the IDville and Baudville brands, she's been known to whip up a mean diorama - just like that!